Amla, De Villiers frustrate Australians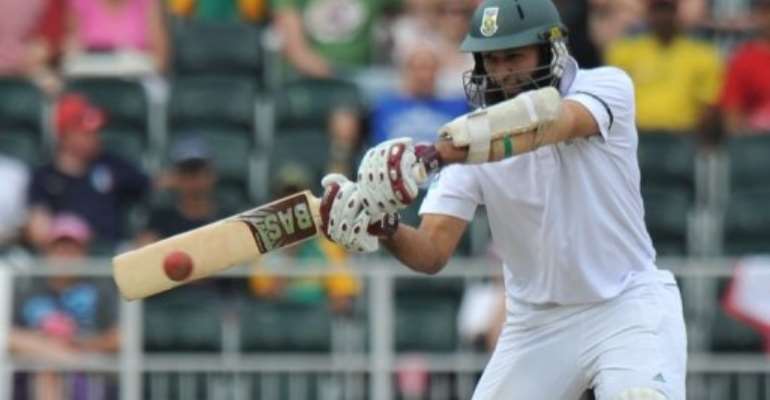 JOHANNESBURG (AFP) - Hashim Amla and AB de Villiers shared an unbeaten century partnership as South Africa regained the initiative on the third day of the second and final Test against Australia at the Wanderers Stadium on Saturday.
South Africa were 229 for three when bad light ended play, an overall lead of 199. Amla was on 89 and De Villiers 70. Their fourth wicket stand was worth 139.
It was yet another turnaround in a series in which there have been some remarkable changes of fortune.
At lunch Australia would have thought they were in a good position to push for a series-levelling win after 18-year-old fast bowler Pat Cummins struck twice as South Africa lost three wickets. The host nation were 94 for three at lunch.
"There is a bit of disappointment in the dressing room," admitted Australian all-rounder Shane Watson.
"After having South Africa three down we couldn't get that one more wicket. In this series one wicket has often led to a couple more and we might have been able to get through. But Amla and De Villiers batted very well."
Watson admitted that Australia were in a situation where they had to work their way through the South African batting if they were to have a chance of squaring the series following an eight-wicket defeat in the first Test in Cape Town.
"We have to bowl them out," he said.
"They're a tough team and they're not going to give us a chance, being one-nil up in the series. We would do the same if we were in their position."
Watson was unable to bowl after straining a hamstring in the first innings. He said the injury would probably prevent him from bowling in at least the first Test against New Zealand in Brisbane starting on December 1.
Cummins was Australia's leading bowler, taking two for 46 in 17 overs.
He dismissed opening batsman Jacques Rudolph, who mistimed a pull against a ball which lifted sharply, and then had Jacques Kallis caught at first slip for two after an impressive sequence of deliveries which troubled South Africa's star batsman.
"It was very impressive to see a young guy working over a legend of the game," said Watson. "To do that to Jacques Kallis shows a serious amount of talent."
Cummins had a confident shout for leg before wicket against Amla turned down by umpire Billy Bowden shortly after lunch.
The Australians asked for a review and Bowden's decision was upheld when replays showed the ball would have hit the leg bail - in the umpire's discretionary area.
De Villiers also had a close escape against Cummins when he edged the ball down the legside dangerously close to wicketkeeper Brad Haddin.
But the pair gradually got on top of the bowling. Although dramatic collapses have been the norm in the short series, South Africa will hope to build on their total as they push to win a home series against Australia for the first time since 1969/70, a victory which preceded 21 years of isolation for South Africa.
Rudolph said it was important for Amla and De Villiers to continue.
"There are 11 overs before the second new ball and they have a chance to play themselves in before it is taken," he said.
"With us losing three wickets quite early I thought the game was on a knife edge but those two batted really well and almost took it away from the Australians," said Rudolph.
He said that although the South Africans felt they could defend anything over 300 they would be looking to extend the lead to around 400.