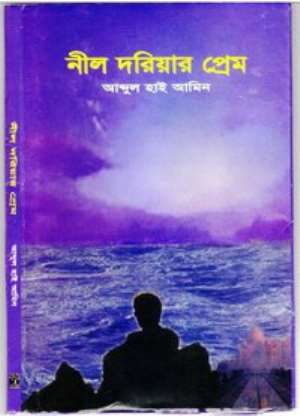 Prostrate cancer is not symptom but 'Act'
Prostrate cancer is not symptom but 'Act' says 'Nil Dariar Prem' book of Bangla Poetry! Foreign Bilingual's Author Abdul Haye Amin Bangla poetry book featured at the Book Fair, in Sylhet, District, Bangladesh says 'Prostrate cancer' is not symptoms but 'Act'.
Author his Foreign fugitives soul and minds through his newly published book in Bangladesh, Bosai Prokashon, Sylhet District, 'Nil Dariar Prem' it is highly recommended for those who left by Virtue of birth born and living in a foreign country isolation from members of families, friends, Relatives, abound between love, affection and distant reflection of shadow in our minds arches days and nights. Nil Dariar Prem. The Bangla poetry book is to comfort at the time of our absent minds far from seven oceans and thirteen Seas away the book was featured Book fair, Sylhet, District, Bangladesh.
The author Abdul Haye Amin claim"Ki Hoya Sa Tur-Ruk?" 'Prostrates cancers is not symptoms but act. To be honest the readers have to find out the truth by asking not hospital doctors but the patients. Author Philosophical minds often absent from nature in realities for example in holy bible Translated Quran in English mentioned as follows:
"And when it is said to them 'Prostrate yourselves! They do not so. Ah woe, that day, to the rejecters of truth! Then what Message, after that will they believe in?"—Sura: Al-Mursalat: 77:48—50: Matthew: 13: 13—18: Tablet: Seroxat: Public Order 1936 Act).
Lord Jesus Christ was indeed worse than his beloved Father and Prophet 'Mohammad'-(Saw), who described as "DOG" those who reject, (Philippians: 3: 2—5). The Truth.
Millions of Euro-Dollar, Taka, and or pound wastes in medications from one company to another in brand new name of tablets other than as mentioned translated English Holy Bible Quran 'Prostrate' another word in language of Oxford University, "Worship" "Ritual" "Salat" "Namaj" and or "Act" Prostrate another name 'Medication' for treatment of any kind of symptoms.
Unfortunately, I did not turn the Holy Bible any further after discovered our Lord Jesus Christ Said those who dose not believe in Religion are "DOG" therefore, I leave it to the medical professional to say in good language other than Dog those who support in our community 'LGBT' with free N.H.S. packets of condoms supplied in privates clinic and hospital for sinful desire and secret pleasure out of absent not minds but lovers it is known as Infidel or adultery? Author regrets and sympathise, those who destroying our spiritual society under the false Revelation other than 'Prostrate' in passion of love, Five times a Days.
After 'Nil Dariar Prem' The Book of 'Encyclopedia of Britannica' –"The Hundred" also mentioned out of hundred Religion in the world, the Religion Islam was discovered one and only the Culture in the nation as follows:
"Of all the religious personalities Muhammad (Saw), were the most successful"—(The Hundred: (The Lord Jesus Christ best Friend and or Councilor).
Nil Dariar Prem Bangla book of poetry which was highly discussed by well known First Bangladeshi weekly News paper, 'Jonomot' In United Kingdom. The poems"Ki Hoya Sa Tur-Ruk?" we as a society often forget about the reality and play game of fantasy. And therefore suffers endlessly as medical professional describe symptom of prostrate cancers those who ignore the message of 'Act' or the 'Prostrates' my dear those who are in love, love at first sight?
We as an individual's cannot ignore the Culture or our Religion to follow false medical psychiatrist Instructions to ruin our own Generations in a communities.
'Nero-Disability Unit Hospital' Management for examples cry days and nights to secure the patients health but often treatment failure lack of. How long are we going to dance with Illegitimate States Ministers in the name of 'LGBT' in politic? Wake up from sleep those who concern matter in life say "Allahu Akbar" In the name of Book of 'Encyclopedia of Britannica'
Thanks author of 'Encyclopedia of Britannica' for your support toward Religion Islam, after well known American online Library 'Shelfari' claim 'Nil Dariar Prem' Book of poems discovered in their community glossary name of "He-Sa-Ru-Hu-Lul-La-He" Lord.
I wish you were my cousin Brother, if it's officially not than 'DNA' blood test must be required under the British Education Board term and conditions to identify the human being the reason why chosen Religion Islam out of hundred Culture when the medical and nation is against "Ki Hoya Sa Tur-Ruk?" Definition word Prostrate in Islam? When 'DNA' test never match as 'Nil Dariar Prem' author own blood? Tell the truth how much have you been paid by British Home Secretary, Jacqui Smith, M.P. to lies to say 'Isla—m' was the only answer in your book of 'Encyclopedia of Britannica'?
Too many to mentioned Doctorates Doctors fail to write their own name inside the natural vegetables and fruits as almighty Lord 'Allah' himself written when Doctors failure claiming symptoms of E. Coli or Semolina? In 'Bangla' Sylheti dialogue says "Nas Ta Na Par La, Wo Tan Tara?" I regrets and sympathise, without my European Portugal teacher 'Manoel da Assumpcam' I do not no how to translate in English Sylheti dialogue but leave it to Shelfari or 'Encyclopedia of Britannica' Editor for next edition to let us know the meaning of; "Nas Ta Na Par La, Wo Tan Tara?" In English to comfort those who suffering symptoms of Prostrates Cancers for future Generation yet to come?
Author Non university graduate student, from city of Birmingham, Secondary Holte School, West Midlands, United Kingdom, left School empty handed as any orphan child without qualification of any kinds his passion of foreign love remain for his Culture and Heritage struggle to find medication for the 'Prostrate Cancer' in language Bangla poems"Ki Hoya Sa Tur-Ruk?" means in English "What symptoms are you suffering?" most patients seen in the States 'Intensive Care Unit' helpless without treatments of any kinds.
This time readers will wonders and take readers many miles away from partition of Bay of Bengal, in 1905 instead of 'Scotland' or 'Wales' as a Independent States to void the 'Intensive Care Unit' St. Bartholomew's, hospital. London.
Author Abdul Haye Amin also written in language English book of poems "The Islands Historia De Amor" published by Xlbris and Bangla Music Song's "Nistur Bandhu" published in Sylhet, District, By Box Electronic, Bangladesh.
For more information on this book, interested parties may log on to: www.gronthamela.com Face Book: http://www.facebook.com/pages/Neel-Dariar-Prem/146209355392277?sk=info Author Website: http://abdulhaye300503.wordpress.com/