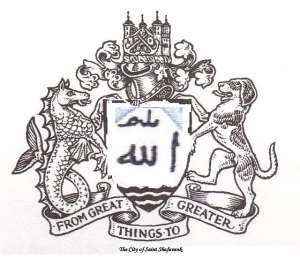 Diwali is the name lost in translation in Culture!
Author Abdul Haye Amin.

Wishing those who are celebrating the special occasion known as 'Diwali' in the name of Lord "Bis-Mil-La-Hir-Rak-Ma-Nir-Ra-Him"-almighty.
May this day bring lots of sincere positives thinking of here after in memory of 'Gohor-Govindo' in Sylhet District? By God name 'Ram' 'Ram' –'Shri Guru Nanak', who lost the Kingdom in their own precious life. No one ever can claim their own rights from 'Hozrot Shahajalal Awlia', (R.A). Who over took the Hindu Religion Governor Palace at the age of Ignorance and darkness in Islam.
May Lord bring happiness and joyful joy in their inner heart, mind and soul, Where heart of Ajmir, India, Kaza Gorib Nawaz, The Holy Saints, In life let them have and enjoy 'Diwali' instead of 'Eid' a years of full of fake excitement of success in their fugitives life on earth other than 'Islam' life belong to no one other than almighty Lord.
Peace and in good health through out the life. Unfortunately, may Lord never attempt those who ever celebrating 'Diwali' as Former British Prime Minister, Tony Blair, Sister, who converted Religion Islam instead of Religion Hindu?
The gate of Ajmir, India, known 'Dargah Sharif' always open to all nationalities as British Prime Minister, Tony Blair, own Sister, before any punishment from almighty Lord in the local Hospital, 'Intensive Care Unit' or 'Nero-Disability, Hospital Unit' for fake entertainments of celebration in the Land Domicile kingdom of almighty Lord. As example given as in the year 2004 Tsunami disaster.

Once again, happy Diwali to those who by knowingly, devoted in Culture, in Religion, In Heritage of truth. Guide them to the true path of Journey those who lost in the oceans of fake Religious Education in School, My Lord direct them to the true Revelation in Culture! As in Russia, nine month old boy, nation seen the colour of truth, the name of 'Allah' Lord, in body of nine month old baby. Your 'Visual Hallucination' the 'Laser treatment' can be reached any where around the world as SUN raised in the morning in every one home and hearts.
Best wishes from Bilingual Author Abdul Haye Amin. [http://www.abdulhaye.com]