October 4, 2011
|
News
ONE ON ONE WITH REV SAM KORANKYE ANKRAH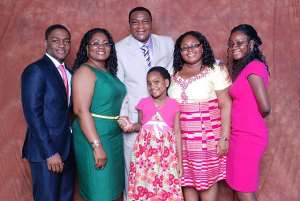 Growing up, life appeared tortuous owing to how he and his many other siblings had to virtually scramble for space, food, love and care in a typical polygamous African family he was born into but Rev. Sam Korankye Ankrah describes his life today as a great testimony.
The fifth of seven children born to Madam Victoria Atsupi Ziddah (one of many wives of James Nii Ocran Ankrah of blessed memory), this young man just knew he could not give up on himself. Better still, God was not ready to deny the world of this miracle.
He says growing up as a young man was tough but God had a plan for him.
"Growing up was difficult considering the circumstances under which we grew up. We had to scramble for everything from food to space, love and care. Education was no exception. Fortunately, God had blessed me with wisdom and understanding that helped me gain a scholarship to further my education," he said.
He recalls how instrumental his mother was in grooming him in the ways of God.
"The best thing that ever happened to me in my childhood was that I had a God-fearing mother; she gave me all the spiritual support I needed to go through the different phases of my life."
In a chat with The Spectator at his residency last week, the Apostle General, Rev. Sam Korankye Ankrah took me through a ride of his life with beaming smiles and sweet laughter.
A prophet in the nation, a voice for the voiceless, a passionate worshipper and preacher of God's Word, Rev. Sam Korankye Ankrah has emerged as a testimony of God's transforming power in the lives of the depressed and oppressed in our society.
Prayer, he stressed has always been the driving force that has seen him and Royalhouse Chapel International (RCI) come this far.
He describes his entrance into ministry as an uncommon "Encounter with God" with a special message given him by God.
Rev Sam Korankye Ankrah's name is a definition of excellence and fulfilment and stands tall among his peers for his vibrant prophetic radiance and passion in declaring the uncompromising Word of God through love.
Mention of the ever-growing congregation and testimonies of Royalhouse Chapel International (AHENFIE) will be incomplete without tracing its success to the obedience and vision of this altruistic man.
Determined to excel, he made a trip to Holland in 1990 after his university studies. However, the things of man are not that of God. An uncommon encounter with God in his room on that fateful June 19, 1991 rewrote the story of his life.
God gave him the following three core messages in affirmation of the call on his life.
- Bring people into My presence through prayer, praise and worship
- Preach salvation, healing and deliverance as well as messages of hope that are relevant to the needs of people.
- Bring comfort to people and provide them with a place and an atmosphere of love, care, sharing and fellowship.
The first confirmation on his marriage to one of six friends affectionately called 'Six Sisters' came to him as a shock because according to him, he never considered her as a prospective wife.
As President of Lovers of Charismatic Evangelistic Ministry (LOCEM) in the early 1980's, Rev. Sam Korankye Ankrah (then Bro Ankrah) received the final confirmation at the Edumfa Prayer camp after the famous Ghanaian Pentecostal leader popularly known as Auntie Grace reaffirmed this prophecy.
"I have known her since 1982 as a young lover of Christ who was ready to go all out for God throughout LOCEM's evangelistic days," he said of his wife.
Rev. Mrs. Rita Korankye Ankrah is the Founder and President General of Royal Ladies Ministries International with branches in Ghana, UK, USA and Central Europe. She holds a Masters Degree in Governance and Leadership from the Ghana Institute of Management and Administration (GIMPA).
It has been 25 years of matrimony with friendship and love at the core of the union. Rev Korankye Ankrah noted that mutual appreciation and understanding has played a role in bringing them this far.
"The greatest achievement in this marriage is how both of us have put our strengths and resources together to build a phenomenal kingdom for God, and how God has used us to change the course of people who would not have gone to the university if they had not met us years ago."
The couple have four God-fearing children namely Nana Akos, Paapa, Naa Dromo and Mawuena.
Rev. Sam Korankye Ankrah has an inexplicable passion for people who are afflicted and need help. "I never love to see people in pain, dehumanised, hungry and cheated. More importantly my heart is troubled when there is chaos and bloodshed."
It is for all of these and more that RCI runs a solid ministry for the Aged, Ex-convicts, Scholarship scheme which has till date seen thousands being beneficiaries and a supernatural outreach ministry to deprived communities in the northern parts of Ghana.
The Apostle General was honoured with the prestigious Presidential and National Award, Member of the Order of the Volta in 2008 and in 2009; he received the recognition for The Angel of the Year from Pristine Hub Limited and TV Africa, Ghana.
In January of every year, RCI heralds the New Year with a prayer and fasting conference dubbed 'Week of the Altar'. It is a period where people come to seek answers to resolutions and prayers made in and for the ensuing year.
The 'Convention of Saints' he says is a gathering where people rededicate their lives to God through soul-searching. It is also a time when Men of God gather to speak into the nation particularly as the country gears up for General Elections next year.
This year's conference is on the theme "When I See The Lord" Genesis 32:30 with regular speakers Apostle Jannie Ngwale, South Africa; Bishop Bernard Owusu Ansah, Holland; Bishop Dominic Allotey, Germany; and the Host Apostle-General Rev. Sam Korankye Ankrah.
An ultra-modern church auditorium and hospital project have been drawn up to meet the growing demands of the church.
Earlier this year, he received the William Selmer Award for Exemplary Leadership and Humility marking the 100th Year of the Azusa Street Revival in California.
He is the current First Vice President of the Ghana Pentecostal and Charismatic Council (GPCC) of Ghana.
On the issue of homosexuality, he expressed strong sentiments towards the issue as he says too much freedom without checks and balances can create a chaotic society.
His message for the nation is this;
"This is the only country we have so we must build and enjoy it. So, I want to advise politicians that, in going about the 2012 elections, they must realise that they are coming into office to serve people. Righteousness builds a nation and if we as people will fear God and honour Him, He will also honour us."
He takes time off at the golf course where his best shot is at the 14 holes but this hurdle he believes is not insurmountable. His favourite meal is banku with okro soup.