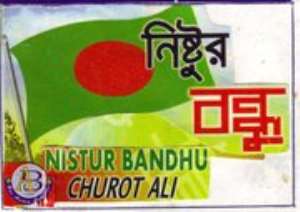 Nistur Bandhu Songs of Praise.
Nistur Bandhu Songs Of Praise came from the Bangladesh, well known Music Industries, Box Electronic, in Sylhet, District, for the first of in kind anniversary in language Bangla almost fourteen hundred years ago, Prophet 'Mohammad',-(Saw), first Introduced, "Monar Aynai jay No Maja" the religious song's after Prophet 'Adam' turn the clock back as our Prophet struggle to established 'Namaj' which finally return to join in Mosque/Church congregation as they sing the hymns chosen for that first yet to broadcast in the United Kingdom, on the air song was written by Bilingual's author Abdul Haye Amin, book of poetry, in English, 'The Islands historia De amor' and in language Bangla, 'Nil Dariar Prem' The none-university, graduate student, 'Secondary Holte School', from city of Birmingham, West midland, United kingdom.
The Bangla song's 'Nistur Bandhu' most poplar hymn song in the eyes of the religious worshipers in language Bangla beyond any boundary. The very best in congregational hymn singing and inspirational music in Bangla in memory of the very first man from European Country to spoil to Introduce in language Bangla in the years of 1734 'Manoel Da Assumpcam' today our community proud of singing, "Ka Jano Ammai Bolasa Gorib Des Hoi Bangladesh" in language Bangla world wide.
The well known singers in Sunam Goinj, District, Bangladesh, Boual Churot Ali, sings in pleasure and in pride "Monar Aynai Jayna-Maja" to entertains not only worshipers but also all class of race, cast origin, and nationalities to encourage in the name of Lord, to worship our Lord Almighty, Allah, in every occasions, seasons, and especial ceremony, not only holy month of Fasting Ramadan.
The Bangla 'Nistur Bandhu' songs also helps those who sufferers suffers as a symptoms known as follows, Dementia, Alzheimer's, "Schizophrenic" disorders, bipolar disorders, (manic depression), and psychosis, to help community based long terms sufferers lost their ways through the air tight double glazing window breath of fresh air through the wave of sounds as 'Betar Bangla' Community Radio' often play the Bangla song's, in medical terms in Bangladeshi community hope to encourage peoples to use to worship our forgotten almighty Lord.
Particularly those who forgotten the almighty Lord in Holy Bible Quran (82) Eighty two time mentioned to the followers to follow nothing but (Namaj/Worship/Ritual/ Act/ Salat), as they fall under the westernized Culture of Devil and Evil 'LGBT' Ministers spells driven their precious life under the medical professional hand suffering in silent's under the treatment where there is no medication or out of treatments suffering in the States 'Nero-Disability Hospital Unit' Royal London Hospital, 'Intensive Care Unit' or 'East London Mental Health Hospital' alone friendless friends in hospital the only friend most often seen patients by Doctors or nurses feeding as we once was little baby or Child's.
Nistur Bandhu Songs of Praise in variety mixed song's in Bangla bring hope and confidences inspire those who in nature failure life in reality. No doubt as medical professional also recognized beyond churches or Mosque across the medical board, The Occupational Therapists for 'Music and (BSMT), sound therapy' use most music's and or song's the sound therapy to cure the disorder of victim of schizophrenia a disease which make most mental health illness patients acting as a deaf often unable to "hear" or tell the different between real and unreal in real life experiences, medically often known as 'Glue ears' however, sounds of not 'Nistur Bandhu' but "Allahu Akbar" the Arabic music not only bring memory back into reality through the nerves of the human being's pass hope of ray of light into brain accelerates through out inside the body physically unusual way excite them those who forgotten their past says Nistur Bandhu the songwriter.
In medical Language, Clinical Psychiatry as an auditory hallucination under the symptoms, of conditions such as "Schizophrenic" disorders, bipolar disorders, (manic depression), and psychosis, those who suffering. Under the conditions "Voices" The voice hearers have given as a Gifts "Nistur Bandhu" medically known, "Extra, (ESP), Sensory Perception"
The 'Miracle' of Lord, sounds (Scripture), Jesus Christ, (R.A), Father, (Allah), Name in scripture written in the E.E.C. Non-Islamic, Muslims, Country, Bon, City, Germany, Forest. And inside human being 'LUNG' the romantic love song's known in language Arabic "Allahu Akbar" –(Azan), you may give as a Gifts or Presents instead of 'Nistur Bandhu' to those who are Suffering in the States Hospital, friendless alone.
May almighty, Lord bless especially those who suffer suffering in the States hospital bring lost hope and confidence those who completely, lost in reality waves of sounds as tsunami cyclones or hurricanes in the U.S. A. seen victim of million of citizen's, permanents home and country searching for safe place to live in from waves of romantic sounds of not "Allahu Akbar" nor 'Nistur Bandhu' but hurricane or Tsunami disaster.
Advertisement
Since British India, After liberation of East Pakistan, The First Prime Minister of Bangladesh, 'Bongo Banhu' 'Shirkh Mujibul Rahman' stolen the Identities of Medical ingredients the States Romantic Love song's "Allahu Akbar" –the (Azan), instead of tablet 'SEROXAT' and established the first national Church/ Mosque, in the Capital City of Bangladesh known as not 'Taj Mahal' but "Baytul Mukkrum Mosque" in Dacca, --"Monar Aynai jay No Maja" thousands of peoples seen day of 'Friday national Jumma' instead of taking tablet "Seroxat" to be taken five times a days.
The U.S.A. Non-Muslim, novel Prize Winner, doctorates Doctor, Carol also encouraged the patients--"Monar Aynai jay No Maja" the only medication those who failure in treatment in life. The States love song "Allahu Akbar" instead of British tablet 'Seroxat' in the Kingdom of almighty Lord. The 'Seroxat' Medicine Company also encourage 'Ritual' to be carried out those who suffering in life?
The first U.S.A. man in the moon also claim heard the sounds of 'Allahu Akbar' in the moon and who pride the Lord Almighty how without electronic devices far as moon reached the Miracle sounds? The sound of "Allahu Akbar" from miles away destroyed six storey building of Hindu Religious government Palace in Sylhet District, age of Ignorance in Christianity and in Islam, without any military army attention whatsoever.
The First not Prime Minister or King but 'Princes of Wales' in England complaints to the Islands Medical Environmental Public Health authorities under the prescribed tablets 'Seroxat' information instruction duration of his visit to the Islands of Jersey and Guernsey, in the forgotten years of 1995, Never heard of romantic love song's as in 'Taj Mahal' in India, in the heart of St. Helier or St. Peter port. In written history after liberation of British Channel Islands from Hitler to commemorates our forgotten Lord "He-Sa-Ru-Hu-Lul-La-He" Father?
Million of peoples world wide empty their own pockets the last penny pay visit to see 'Taj Mahal' in India or Sylhet District, 'Hozrot Shahjalal Awlia', (R.A),- 'Mazar Shariff' instead of British Channel Islands, no wonder our States Islands are to suffer under the 'Depression of Recession' ever since and symptoms of Dementia lack of recognized appointed Lord the symbol of love 'Sign' often seen inside the natural fruits and vegetables and Islands Authorities of the States and the peoples are to suffer under the known symptom of 'E. Coli' many years and decade yet to come nothing will ever secure our States by ignoring 'Nistur Bandhu' ---"Monar Aynai jay No Maja" Bangla song's says Princes of Wales.
Our only future King after losing our future dream 'Princess Diana'—'Nistur Bandhu'-song's number side (B),--"Ki- Dos-Ha- Pre-Te- Sha-Ro-Ra"--Mean in English "What was my crime of offense to leave me alone?"-- "Inna-Lila-He-O-Inna-He-Li-He –Ra-Ge-Own?" from England.
FACE-BOOK: http://www.facebook.com/pages/Nistur-Bandhu/172065736157487?sk=info
By Bilingual Author Abdul Haye Amin. [http://www.abdulhaye.com]. [http://www.abdulhaye.com]