Gbagbo wants power sharing deal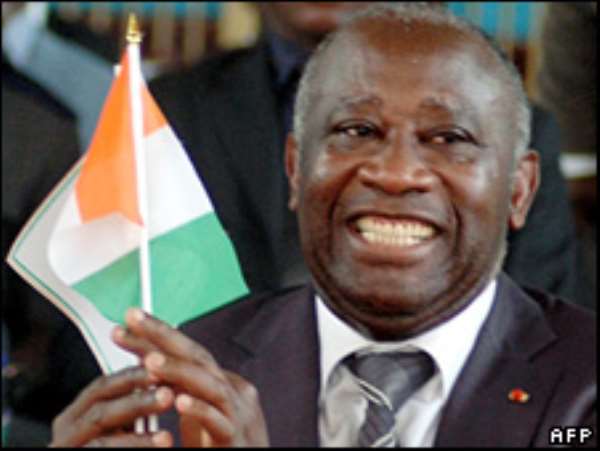 President Laurent Gbagbo's government says it is not averse to a power sharing arrangement with opposition leader Alassane Ouattara in the Ivory Coast.
His new Foreign Affairs Minister Alcide Djedje told Citi News that Mr Gbagbo is committed to ensuring peace prevails in the country and so will compromise in that regard if need be.
Alassane Ouattara and Laurent Gbagbo have both sworn themselves in as presidents following a dispute over Sunday's presidential run-off. They have both appointed prime ministers and virtually formed parallel governments.
The UN, US, France, EU, AU and regional body ECOWAS recognise Mr Ouattara as the president-elect but Russia has taken a different stance, insisting that a UN Security Council resolution declaring Mr Ouattara president would amount to interfering in Ivory Coast's domestic affairs.
ECOWAS suspended Ivory Coast from the regional body after an emergency meeting in the Nigerian capital, Abuja on Tuesday, November 7.
Mr Gbagbo's new Foreign Affairs Minister told Citi News that his government is open to dialogue and possible power-sharing with Mr Ouattara to avert war.
"We are ready, we are open to any discussion with anyone inside the country, power sharing is the best way to have peace in Cote d'Ivoire ... so if they want peace in Cote d'Ivoire, we are very open."
Mr. Gbagbo's government has also described ECOWAS's endorsement of his opponent as misplaced.
Mr Alcide Djedje said neither ECOWAS nor the West and their allies have the authority to determine who is pronounced president of Cote d'Ivoire.
Meanwhile, Ghana's Foreign Affairs Minister, Alhaji Mohammed Mumuni says the Economic Community of West African States (ECOWAS) may have no option than to resort to brute force to remove Laurent Gbagbo from office if diplomatic efforts fail.
The regional body on Tuesday suspended the country from its activities to send a strong signal to Mr Gbagbo that it does not recognise him as winner of the presidential run-off.
This was after the independent electoral commission declared Alassane Ouattara winner in that country's polls but this was later overturned by the constitutional council in Mr Gbagbo's favour.
ECOWAS says it will not recognise any illegitimate government in the sub region.
But some critics say a mere suspension and warning will not be enough to get the Ivorian President to concede defeat unless ECOWAS decides to take the bull by the horn.
In an interview with Citi News Alhaji Mohammed Mumuni said the ECOWAS is capable of doing just that.