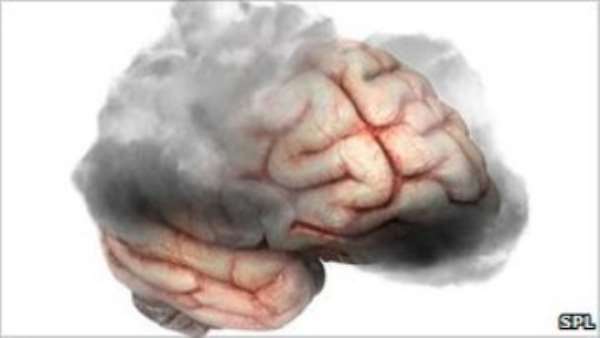 Could gene therapy help depression?

Gene therapy in mice appears to be able to "correct" a gene defect strongly linked to depression in people.
Abnormal behaviour in mice lacking a gene in a specific brain region was reversed after injections of a modified virus.
The US study was published in the journal Science Translational Medicine.
A UK gene therapy pioneer said that despite the need for a brain injection, a future treatment should not be ruled out in severe depression.
The gene, known as p11, is one of several candidates which appear to play a role in depression.
Examination of the brains of deceased patients with depression revealed that they had considerably lower levels of p11 in an area of the brain called the nucleus accumbens.
It is thought to work by regulating the brain chemical serotonin, which helps control mood, appetite and sleep.
Mice bred so that the gene is not present in the nucleus accumbens also showed behaviour which has been compared to depression in humans, for example appearing to lack motivation when given a swimming task to complete.
When they were given an injection of a virus altered to restore p11 to normal levels, their behaviour became indistinguishable from a normal mouse.
Dr Michael Kaplitt, from Weill Cornell Medical Center, and one of the research leaders, said: "We potentially have a novel therapy to target what we now believe is one root cause of human depression.
"Current therapies for depression treat symptoms but not underlying causes, and while that works for many patients, those with advanced depression, or depression that does not respond to medication, could hopefully benefit from our approach."
Any such treatment would be many years away, and, given the complexity of depression, further work would be needed to determine how much impact p11 gene therapy could have in humans.
The viruses used to deliver the gene therapy are too big to pass the blood brain barrier which protects the brain, and would need to be targeted precisely at the nucleus accumbens, as p11 could have a variety of different roles in different brain areas.
This would mean that a hole would need to be drilled in the skull, and a needle guided into precisely the right spot.
'Clinical issues'
Dr Guang Chen, a neuroscience researcher at pharmaceutical firm Johnson and Johnson, in a commentary in the journal, said that the use of gene therapy in this way for depression represented "uncharted territory".
"Although we have embarked on a promising new path, a large number of clinical and regulatory issues must be overcome before such therapies can be implemented."
Other experts argue that even such an invasive treatment should not be dismissed as a future option.
Prof Alan Kingsman, a pioneer of gene therapy at Oxford University, and now chairman of biopharmaceutical company Oxford Biomedica, is already helping to run trials of gene therapy for patients with Parkinson's Disease.
This too is delivered by injection directly to the brain, but he pointed out that the procedure was no more invasive than deep brain stimulation, a treatment being trialled for severe depression in which an electrode is implanted beneath the skull.
He said: "It certainly shouldn't be written off as something that is completely inappropriate in patients with depression."
He said that it was possible that a gene therapy might only need to be administered once, unlike traditional drugs which might need to be taken long-term.
Len Seymour, a professor of gene therapy at Oxford University, said that the only way to move was for researchers to identify a group of depressed patients whose condition was so severe that ethicists could be convinced that such an experimental treatment was justified.
"Brain therapy is becoming more acceptable than it was 10 years ago, and it seems to me that it could open up a whole new field of medicine," Prof Seymour said.
"What this, and other studies, are showing, is that gene therapy, delivered correctly, can be effective."