An exile letter for Bangladesh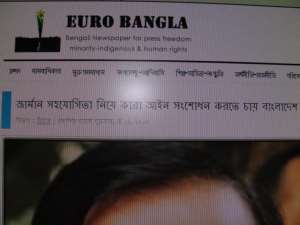 By Jahangir Alam Akash: My dear golden Bangladesh please take my love and regards from Europe. I have been living since last one year as an exile in Europe. Exactly on 29 May in 2009 I was arrived in Deutschland. And on 28 May, 2009 I was compelled to leave my homeland for the safety of my life. (http://www.youtube.com/watch?v=1xzaCRYCkqs http://thehumanrightstoday.wordpress.com/ http://www.eurobangla.org/)
I don't know how are the people of my loving Bangladesh now, really! I Hope, everything is all right there. The government has been banned a strong social media Face book in Bangladesh. Another TV station Channel 1 also shut down by the government. After my leaving of the country, at least five journalists have been killed (including Fothe Osmani and S I Mithu). Many other have been persecuted (one of them is F M Masum). From abroad, I feel very much pain in my heart for them.
Recently the government has canceled the declaration of a Bengali newspaper Daily Amar Desh. After then they have arrested it's acting editor Mahmudur Rahman. In March, 2009 goverment also blocked the You Tube.
I miss my working place Rajshahi, colleagues, friends, family members, journalism in Bangladesh, teachers & journalists (like dear Malay Bhowmic, Hasan Azizul Huq, Sanat Kumar Saha, SM Abu Bakor, AAMS Arefin Siddique, Muniruzzaman, Monjurul Ahsan Bulbul, Sohrab Hasan, Ahmed Jobaer etc ) as well as the beautiful and loving Bangladesh. I also miss my Rajshahi press club, the daily Sangbad, my friend William, young journalist friend Sumon and many others who are working in the fields of journalism and human rights. And also I miss my oppressed and voiceless people from my work area (Rajshahi region).
Hope, one day, peace will come there with prosperity, happiness and real democracy. In my exile life, I have security, peace but not the happiness. I hope also that, all the discrimination, corruptions, extra judicial killings, militancy-oppressions on the minority-indigenous, would be ended. My further hope is that, the trial of war criminals would be finished as per international norms and the real criminals of the war would be punished. Please pray for us.
Dear bloggers, journalists, writers, readers and viewers please read this news (Freedom of speech and press are reducing in Bangladesh) in the link of below.
http://thehumanrightstoday.wordpress.com/2010/06/02/freedom-of-speech-and-press-have-been-reducing-in-bangladesh/
We have changed our web news blog site address. The new address of "The Human Rights Today" is http://thehumanrightstoday.wordpress.com/
Now we are uploading our all news on press freedom, minority-Indigenous oppression and human rights in this new address http://thehumanrightstoday.wordpress.com/
Thanking you.
Jahangir Alam Akash
Editor
Euro Bangla
&
The Human Rights Today
http://thehumanrightstoday.wordpress.com/
http://youtube.com/user/jaakashbd
http://www.eurobangla.org/
[email protected]