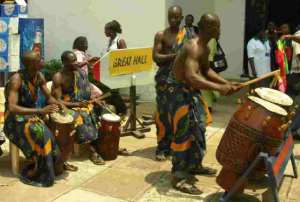 Do you live in or New York and is an arts enthusiast? This is a great opportunity to join a fun-filled cultural educational and information session.
Come Celebrate Black Brooklyn Drumming in New York courtesy of Brooklyn Council of the Arts. The Program features Drum Traditions from many countries including Ghana. Represented by a Drum Master and Ethnomusicologist, Harold Akyeampong, the President of Percussive Arts Society, Ghana chapter and International Director of the International Center for African Culture & Arts will lead the clinic in various Ghanaian traditional drumming suites for lovers of Ghanaian music and enthusiasts for free. This event is one of the series of programs line up towards an impending Ghana's Day of Percussion 2010 to be hosted by the Ghana chapter of the Percussive Arts Society in August and September.
Details:
Black Brooklyn Drum Call
06/05/10
2:00PM - 5:30PM
Demonstrations, performances and symposium on African beats in the borough featuring expert Brooklyn drummers representing various African diasporic traditions, including José Ortiz (Puerto Rican), Frisner Augustin (Haitian), Baba Mpho (Guyanese Shanto tradition), Tony Reece (Carnival iron section), Junior Wedderburn (Jamaican) and others. Learn about the drum-making art from Montague Pollard.
The public is invited to bring drums and learn the distinctive beats of Black Brooklyn, then join in the All-Brooklyn Drum Jam. Immediately following the jam, join us for a symposium on the history of African drumming traditions in Brooklyn moderated by world-renowned Brooklyn drummer Neil Clarke.
Free!
Also featuring:
Austin Tuitt and the 2010 medalists for GCR Steel-pan Neckstrap Competition, Dexter Cummings, Darrel Spence, and Victoria Theodore
Ray" Chino" Reyes, Dominican percussionist
Harold Akyeampong, Ghanaian percussionist and ethnomusicologist
Dereck "D-Cross" Cross, beat boxer and vocal percussionist
Ayanda Clarke, son of Neil Clarke , drummer and ethnomusicologist
Montego Joe, African-Caribbean percussionist, has played on recordings by Baba Olatunji, Nina Simone, Abbey Lincoln and Max Roach
Edwina Tyler, founder of all women drumming group in 1980s, "Edwina Tyler and A Piece of the World"
Wali Rahman, co-founder with his wife Andara of the group "Drum and Spirit of Africa" and artistic director of the Armory, an early Brooklyn center of the Black Arts Movement
Presented by BAC in cooperation with Brooklyn Public Library.
WHEN: Saturday, June 5, 2–5:30pm
2–3:30pm: Drum demonstrations/performances on the Plaza; drum-making demo in the 2nd floor meeting room
3:30pm: All-Brooklyn Drum Jam on the Plaza
4–5:30pm: Symposium: History of African Drumming in Brooklyn .
WHERE: Brooklyn Public Library, Central Branch Plaza and Dweck Auditorium (Rain Site: Dweck, 2nd fl. meeting room)
Grand Army Plaza at Flatbush and Eastern Pkwy ( Prospect Heights )
Transportation: Any train to Grand Army Plaza .
Grand Army Plaza at Flatbush and Eastern Parkway, 11238