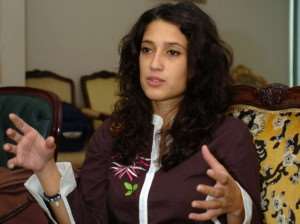 Well, well.
There have been Indo-Pak cricket matches and nuptials too.
In the past actor Reena Roy married Pakistani cricketer Mohsin Khan.
Now, Tennis pro Sania Mirza is about to marry Pakistani cricketer Shoaib Malik.
Tomorrow politician Rahul Gandhi can marry Pakistani poet/writer/socialite Fatima Bhutto (27) or future politician Sassi Bhutto (28). It is about time Rahul married and settled down. At 39, he is the most eligible Indian bachelor. His Spanish Columbian girlfriend Veronique didn't last long.
Gangadhar (-) ------------------------------ --
Motilal Nehru (1861-1931; 70)-- Ghulam Murtaza Bhutto (-)
Jawaharlal Nehru (1889-1964; 74)-- Shah Nawaz Bhutto (1888-1957; 69)
Indira Gandhi (1917-84; 66)---- Z A Bhutto (1928-79; 51)
Rajiv Gandhi (1944-91; 46)----- Murtuza B (1954-96; 42)/Shahnawaz B (1958-85; 27)
Rahul Gandhi (1970; 39)-------- Fatima B (1982; 27)/Sassi Bhutto (1981; 28)
Indira married a Parsi, Rajiv married a Christian and Rahul can marry a Muslim. This will truly be national integration. Relations between the two countries will normalize in a jiffy. Fatima/Sassi's great grandfather SN Bhutto was married to a Hindu (Lakhi Bai), who later converted to Islam. Faith is not a matter of utmost concern here.
It is not sure whether Sonia/Rahul follow Christian or Parsi/Hindu faith. So let's leave the choice to Fatima/Sassi whether either of them after marriage would remain a Muslim or convert.
Surely, this alliance will generate lot of positivism on both sides. God bless them. As they say, all is well that ends well.
If Mohsin Khan and Shoaib Malik can be jamaai/dulheraja of India with their sasurals in India, Rahul should enjoy the same privilege in Pakistan. Hisaab barabar.
So, apart from actors, sports persons and politicians, tomorrow there be alliances between both the countries' cops, chief justices, media persons, peons, clerks…
PHEW!!!