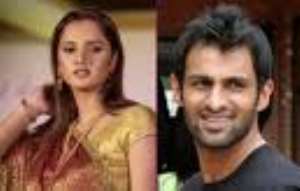 SM(S) to wed SM(S)!
Now, now, don't be shocked. Sania Mirza (23) is to wed Shoaib Malik (28) on April 10/11 2010 in Hyderabad, India. The reception will be held on April 16/17 in Lahore. Another reception will be held in Sialkot. The announcement was made March 29 2010 and met with lot of speculation and even apprehension. The engagement will take place next month when Shoaib's family arrives in Hyderabad on April 7.
The couple have probably started SMSing, chatting and emailing too (if they can't meet personally). Apparently Sania ended her engagement to Sohrab Mirza (again SM) as six-months back she fell in love with Shoaib.
Usually cricket is played on war-footing when the match is between India and Pakistan. But this is one match, where peace and love will prevail. And no one would have any objections. In fact, one can expect lots of genuine laughter and merry-making. Sports can thus be a great leveller and thaw tensions between the two countries.
Sania born in Mumbai and brought up in Hyderabad, AP, India has brought international laurels to India in tennis. Shoaib born in Sialkot, Punjab, Pakistan has done the same for Pakistan in cricketing field. Currently both are seeing s downhill in their respective careers. While Sania has slipped down Singles ratings, Shoaib faces a one-year ban in test cricket.
Both Sania and Shoaib have had their share of controversies. In 2005, Sania's short dresses on tennis court raised Muslim clergy ire. In 2005 again, her comments on safe sex raised fury with religious groups but she clarified she was opposed to pre-marital sex. In 2006, there were baseless reports that she refused to play with an Israeli tennis player lest she offended Indian Muslims. In 2008, she was pictured with her feet resting with an Indian national flag in front. In 2008, she stated that she will stop playing in India considering the controversies.
Shoaib Malik came under criticism in India for his statement after losing the final of the 2007 ICC World Twenty20.
If Sania was engaged to Sohrab in July 2009 and later called it off (January 28 2010), Shoaib was allegedly married to Ayesha (Maha) Siddiqui, coincidentally a Hyderabadi girl in 2002. He had met her in Dubai in 2000 and in 2002 decided to fructify the relationship. In 2008, Ayesha's father seeks divorce for vows exchanged over phone. God knows how the matter was settled (whether virtually or in court). Later in 2008, Shoaib dated Sayali Bhagat (26, Bollywood actor). Hmm. Seems he led quite a hectic and peppy life.
Sania met Shoaib in February in Dubai and both their families decided to "fix" the match (no pun intended).
Earlier too high profile marriages between Bollywood and Sports personalities between the two countries had been held earlier. But most of them failed. This may be due to the conservative atmosphere in Pakistan, which is not conducive for any relationship to prosper.
Also the Indian and Pakistani identity plays at the back of the mind and refuses to die down. If Indians feel Paki is a four-letter word, Pakistanis feel the same about Indi. The psychological barrier was never crossed and becomes a noose for emotionally fragile relationships. The propaganda of Indophobia in Pakistan and vice versa is too huge to ignore.
Remember Mohsin Khan (55, cricketer) and Reena Roy (54, actor) failed marriage. Imran Khan (57, cricketer/politician) married Jemima Goldsmith (36, socialite) but it ended eventually. Dr Hasnat Khan (50, Princess Diana's suitor), a non-resident Pakistani married a local Hadia Sher Ali (28) in 2006. It ended in divorce. Adnan Sami (36) of Pakistani origin and Canadian national, residing in India was married to and later divorced with Zeba Bakhtiar (38). He then married Sabah Galadari that resulted in separation. Actor Amrita Arora was once in love with UK-based cricketer Usman Afzal but married Shakeel Ladak. Nina Gupta's (in)famous short dalliance with West Indian cricketer Viv Richards resulted in Masaba (!!!)
Finally Shoaib seems to have found his match in Sania baby, who has consented to be his bibi (biwi). The baba is finally growing up. Should I say, love all! This knot when tied should be for ever. Wishing the sporting couple of two countries the best of wishes. As they will reside in Dubai (Shoaib is a resident there), there is hope that they will play long innings in both their career and personal life. Hope this match is made in heaven. Amen