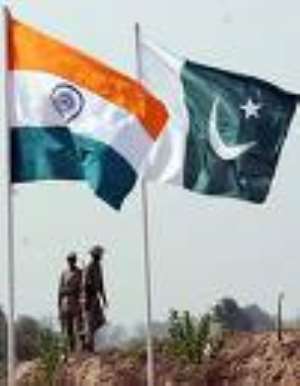 We talk about minorities in India but are strangely unaware of the existence of the same in neighbouring Pakistan. Even before Independence Hindus, Sikhs, Parsis, Jews and Christians existed in undivided India. There was large scale migration/exodus post partition (gadar) on either side. Despite being unofficially classified as 'terror state', where cricket with India is played on a war level and religious tensions abound (even among Muslims like Ahmediyas, Baha'i, Muhajirs and Shia-Sunni), there is a section among minorities that has carved out a niche for themselves and contributed to the making of Pakistani state and bringing it honours. The country too has honoured them.
"Hindu" is derived from Sindhu (Indus river considered holy) in Pakistan. The land has played an important part in the origin of Hinduism. Hindus may be small numerically (once 20%, now they are mere 1.85%) but Pakistan has fifth largest population. Sindh played an important role in Mahabharata. Legend has it that Lahore city was founded by Luv and Kasur by Kush (both sons of Ram). Cities Peshawar and Multan have Sanskrit roots. Hindus' contribution towards the making of Pakistan can never be negated.
It is not the majority but the minority communities that shape any country. India was partitioned into East Pakistan (Bangladesh in 1971) and West Pakistan (now Pakistan). Strangely a country formed on religious divide is not called Muslimstan/Islamistan (a la Hindustan) but Pakistan (Pure Land).
The word PAKISTAN was coined in 1934 as Pakstan by Choudhary Rahmat Ali, a Pakistan movement activist, who published it in his pamphlet Now or Never. The name is a portmanteau of PAKISTAN, who live in the five Northern Units of British Raj — Punjab, Afghania (now known as North-West Frontier Province), Kashmir, Sindh, and Balochistan." This may today be based on eight provinces: Punjab, Azad Jammu & Kashmir (AJK), Islamabad Capital Territory (ICT), Sindh, Federal Administered Tribal Areas (FATA), Balochistan, Gilgit-Baltistan and NWFP.
In 2005, speed-skating champion Sanjeev Bhatnagar filed a PIL to delete Sindh from Indian national anthem Jana Gana Mana and substitute it with Kashmir. Sindh was no longer a part of India, as it was part of Pakistan since Partition of 1947. Opponents said Sindh refers to Indus and to Sindhi culture, and that Sindhi people are an integral part of India's cultural fabric. The Supreme Court of India declined to change the national anthem and the wording remains unchanged. Surprisingly, in Pakistan, no one decried Iqbal's Saare Jahan Se Achchha Hindustan Hamara.
Indian Muslims differed on singing of national song Vande Mataram over meaning of 'vande' that could be either salutation or worship. Many Indians still add to the Indian national pledge "India is my country and all Indians are my brothers and sisters (except one.)"
Former President of Pakistan, General Pervez Musharraf, was born in the Nagar Vali Haveli in Daryaganj, Delhi, India. Pakistan's first prime minister, Liaquat Ali Khan was born in Karnal (now in Haryana). The 7-year longest-serving Governor and martial law administrator of Pakistan's largest province, Balochistan, General Rahimuddin Khan, was born in the pre-dominantly Pathan city of Kaimganj, which now lies in Uttar Pradesh. General Muhammad Zia-ul-Haq, who came to power in a military coup in 1977, was born in Jalandhar, East Punjab. The families of all four men opted for Pakistan at the time of Partition.
Bollywood actors like Prithviraj Kapoor (Samudri, Faislabad), Raj Kapoor (Peshawar), Dev Anand (Shakargarh, Gurdaspur, Punjab), Sunil Dutt (Khurd, Jhelum, Punjab), Raaj Kumar (Balochistan) were born in Pakistan. Indian politicians Manmohan Singh (Gah, Punjab), IK Gujral (Jhelum Punjab) and LK Advani (Karachi) too were born in Pakistan. Cricketer Lala Amarnath was raised in Lahore.
Recently Kareena Kapoor (great grand daughter of Prithviraj Kapoor) set a new benchmark by being the modelling face of Pakistan. She charged a cool Rs 3 crore to Firdaus Cloth Mills to launch their lawn summer collection shot in Dubai. Money makes her face west to her ancestors' birthplace. Even Bollywood movies have paid their own tribute to Pakistan apart from the war and sports sagas. Consider Lahore (1949, Nargis, Karan Dewan), Lahore (2010) and Shoot On Sight (2008, Om Puri). Pakistanis too made Khuda Ke Liye (2007, Naseeruddin Shah) and Ramchand Pakistani (2008, Nandita Das).
The founding fathers of Pakistan had their ancestral roots in Hinduism, who were all converts from Hinduism. M A Jinnah (71, I Governor-General of Pakistan) was born to Mithibai and Jinnahbhai Poonja, who moved from Gujarat to Sindh. His grandfather was Poonja Gokuldas Meghji, a Hindu Bhatia Rajput from Paneli village, Gondal state, Kathiawar. Jinnah's ancestors were Hindu Rajput who converted to Islam.
Allama Muhammad Iqbal's (60, national poet of Pakistan and writer of Saare Jahan Se Achchha) father Shaikh Nur Muhammad was a prosperous tailor. His grand father Sahaj Ram Sapru moved to Sialkot after conversion to Islam.
Zulfiqar Ali Bhutto (51, PPP founder, 4th President, 9th Prime Minister) was born to Khursheed Begum née Lakhi Bai and Sir Shah Nawaz Bhutto. Sir Shah, the son of Ghulam Murtaza Bhutto, was born into a Rājpūt family that had accepted Islām.
Jagannath Azad (86, Isa Khel, Punjab) was a prominent Urdu-speaking Hindu academic who wrote the first national anthem (Qaumi Tarana) of Pakistan.
Ae sarzameene paak (Oh land of Pakistan)
Zarray teray haen aaj sitaaron se taabnaak (Stars themselves illuminate each particle of yours)
Roshan hai kehkashaan se kaheen aaj teri khaak (Rainbows brighten your very dust)
Ae sarzameene paak (Oh land of Pakistan).
In 1947 Jinnah commissioned him to write it. It was used for about 18 months despite competition from rival BT Baghar:Jinnah wanted the anthem to be written by an Urdu-knowing Hindu to sow seeds of secularism. Azad later migrated to India.
In 1950, Pakistan Government adopted a new national anthem Pāk sarzamīn shād bād (Blessed be the sacred land) written by Hafeez Jullundhri (82, Jalandhar, Punjab). Jullundhri, an Indian by birth, also wrote Kashmir anthem/song Watan Hamara Azad Kashmir. He also wrote the famous poem Abhi Toh Main Jawaan Hoon sung by Malika Pukhraj and translated by Yogesh Sethi.
(Pakistan pop band Vital Signs' song Dil Dil Pakistan Jan Jan Pakistan (1987) became famous as a patriotic song, giving it the status of Pop Anthem or Second National Anthem of Pakistan. In BBC poll (2003) for top 10 most famous songs of all time, Dil Dil was placed third.)
Pakistan's song is "Pakistan Zindabad, Azadi Paendabad".
Minority Hindus have played a significant role in making a name for themselves and bringing laurels to the country historically, culturally and politically. Anop Ravi (cricketer), Bherulal Balani (politician), Rana Bhagwandas (former acting Chief Justice Of Supreme Court), Krishan Bheel (politician), Ashok Chandwani (India-born, Pakistan-bred, Canadian journalist), Anil Dalpat (first Hindu to play test cricket), Brojen Das (East Pakistan first Asian to swim across English Channel four times), Dhirendranath Datta (East Pakistan lawyer politician), Sobho Gianchandani (social scientist, writer), Khatumal Jeevan (politician), Jogendra Nath Mandal (first Minister of Law & Labour), Danish Kaneria (cricketer), Lal Kumar (cricketer), Amar Lal (Prime Minister's advisor to minority affairs), Ramesh Lal (PPP politician), Deepak Perwani (fashion designer), Naveen Perwani (amateur snooker player), Rajesh Ramesh (cricketer), Haresh Sharma (playwright, born in Singapore to Pakistani parents), Rana Chandra Singh (politician), Rana Prasad (Soda Rajput ruler) and Surendar Valasai (first journalist in English).
Harcharan Singh is the first Sikh officer to be recruited in the Pakistan Army on 27 October 2007. Raja Tridev Roy is a former raja of the Chakma tribes Chittagong in Bangladesh and a Pakistani writer, religious leader and politician. He is a federal minister for life and lives in Islamabad and leads the Pakistani Buddhist community. Prominent Parsis, who have contributed towards Pakistan are Byram Dinshawji Awari (businessman), Minocher Bhandara (businessman), Ardeshir Cowasjee (columnist), Aban Marker Kabraji (biologist, scientist), Jamsheed Marker (diplomat), Deena M Mistri (educationist), Dorab Patel (former Justice of Supreme Court), Bapsi Sidhwa (author) and Godrej Sidhwa (religious instructor).
Pakistan's first Christian Chief Justice of Pakistan Supreme Court was Justice A. R. Cornelius. Distinguished fighter pilot in the Pakistan Air Force is Peter O'Reilly. Cricketer Yousuf Youhana has recently converted to Islam and is called Mohammad Yousuf. In Britain, the Bishop emeritus of Rochester, Michael Nazir-Ali is a Pakistani Christian. Anthony Theodore Lobo (bishop), Joseph Coutts (bishop), Joshua Fazl ud Din (bishop), Jia Ali (model, actress), Martin Bashir (journalist), Cecil Chaudhry (fighter pilot), Michael Chowdry (businessman), Alvin Robert Cornelius (Chief Justice of Supreme Court), Antao D'Souza (cricketer), Gulshan Esther (author), Rachel Gill (model, actress, TV host), Mekaal Hasan (musician, record producer), Irene Perveen (singer), Esther John (nurse), Suneeta Marshall (model), Michael Masih (footballer), Wallis Mathias (cricketer), Mervyn L Middlecoat (fighter pilot), Indu Mitha (Bharatnatyam exponent), A Nayyar (singer), Julius Salik (activist) and Duncan Sharpe (cricketer) are other prominent Pakistani Christians. Karachi synagogue' leader Abraham Reuben became a councilor on the city corporation in 1936.
Did it ever strike us that both countries could unite and be one just like before Partition. (Just a humble thought away from war and towards peace.) And this reunification should be on a humanistic basis and definitely not on religious or political basis. Let the free will of people prevail. Remember, Germany was once divided but finally unified. Hindi Chini Bhai Bhai. Hindu Muslim Bhai Bhai. Hai Naa.