Ghana's group situation at the Africa Cup of Nations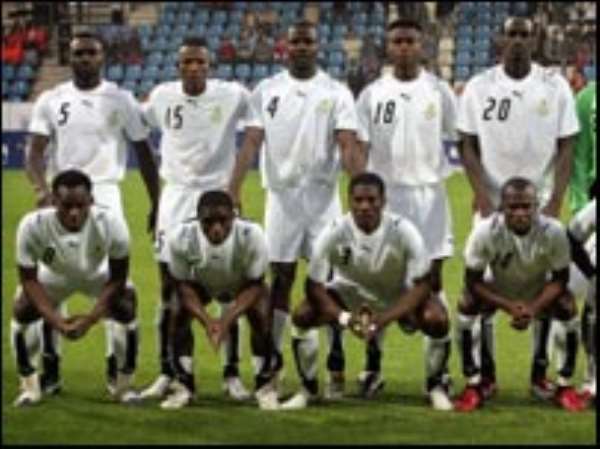 Ghana must beat Burkina today
A 2010 Africa Cup of Nations quarter-finals line-up without four-time soccer champions Ghana would have been unthinkable a few months ago.
But the absence from the starting line-up of eight first choices, including Chelsea midfielder Michael Essien, resulted in a 3-1 loss to Ivory Coast and they must fight for survival against Burkina Faso today.
Here are the scenarios facing the three teams left in Group B after Togo withdrew following a deadly ambush on their bus convoy as it arrived in the restive northern enclave of Cabinda from Congo Brazzaville.
IVORY COAST
The favourites have completed their schedule and will finish first and stay in Cabinda for a quarter-final against the Group A runners-up unless Burkina Faso beat Ghana by at least three goals or by two goals and score four or more times.
BURKINA FASO
A win or draw against Ghana and the 'Stallions' enter the quarter-finals at the expense of the 2010 World Cup qualifiers.
Judged by their ultra- cautious but impressive showing when shutting out Chelsea striker Didier Drogba and his Ivorians, the outsiders have a chance of doing just that.
GHANA 
The 'Black Stars' have to win or pack their bags and head home in disgrace after failing to survive a group they were expected to cruise through with Ivory Coast. In defence of Serb coach, Milovan Rajevac, injuries have wreaked havoc with his plans.
The standings under headings (played, won, drawn, lost, goals for, against, points) are:
Ivory Coast 2 1 1 0 3 1 4 – qualified
Burkina Faso 1 0 1 0 0 0 1
Ghana 1 0 0 1 1 3 0
Tuesday's fixture: At Luanda, 1600GMT, Burkina Faso v Ghana.