Re-Branding Ghana? - "Gangsters" and "Criminals" first, please!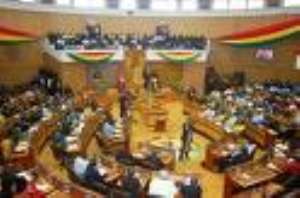 Wednesday September 16th 2009 witnessed the announcement of the setting up of Brand Ghana office, under the leadership of Mr. Mathias Akotia. This news of the setting up of Brand Ghana office is long overdue. However I should be quick to make it clear that, I don't envy Mr. Akotia on his new job, because a cursory search at all aspects of our life (socially, politically and economically) reveals mountains of tasks that Mr. Akotia has to tackle. Faced with such a tumultuous task, the difficult decision will be where to start from. Mr. Akotia, my humble opinion is to start with the "gangsters" and "criminals" as the rot in the fish begins from the head. I pray that Allah grant you the knowledge, courage, wisdom, ability and most importantly the patience to tackle and deliver on this huge task ahead.
Nation Branding-What does it mean?
The definition, scope and context of Nation Branding varies, and largely depends on which aspect of life one belongs to, however the underlining term irrespective of which side of the fence one belongs to is Image Building. Corporate school of thought defines Nation Branding as simply applying corporate branding techniques to countries. According to this school of thought nation branding can lead to success in the global marketplace through "effective differentiation, based on strategic positioning and branding" (www.estwestcom.coms). Their delivery strategy includes, advertising or PR, slogans or logos.
Social constructionist theorists, however believes that Nation Branding should go beyond advertising, PR, slogans or logos. According to Social Constructionist theorists; Nation Branding is a field of theory and practice which aims to measure, build and manage the reputation of countries. In his book "competitive Identity" Simon Anholt asserts that, Nation Branding cannot be achieved solely by manipulating the image of a nation through advertising or PR, slogans and logos but rather nations can change their images by changing the way they behave. They need to focus on the things they make and do and not the things they say. (Simon Anholt, 2003, 2005). Anholt highlighted eight means in which Nation Branding can be achieved and among them are; through courageous and enlightened social, economic, environmental and foreign policies and enhanced public and private diplomacy overseas;
"Gangsters", "Criminals" and the "Honourables"
Tuesday 28th April and Wednesday 29th of April 2009 witnessed trading of accusations of "Gangsterism" and "Criminality" between the NDC and the NPP. The NPP accused the NDC of "presiding over a government of Gangsterism" and the NDC on the other hand accused the past NPP government for been "a state of criminals and looters". This article will not dive into the veracity of the accusations but rather, I will limit the frame work of this article to the discourse of language and governance in our democratic dispensation in relation to Nation Branding. It is appalling to note how people we address as honourables could descend so low to address each other with unprintable words. Post modern democracy, driven on the back of high speed information technology, local democracy now transcends local boundaries. Our political leaders must therefore measure their utterances the Re-Branding this nation should be successful within the global field of competitive identity. What used to be local issues is now easily carried out to the world at the click of the mouse.
Pierre Bourdieu's (1991) in his book "Language and Symbolic Power" observes that, the official language of governments is embodied and institutionalized within the state from which it gains its authority and which it in turn reinforces. Bourdieu further explained that language in not simply to produce grammatically correct sentences; they must be listened to (i.e. heard) and recognized as acceptable in a particular field (i.e. acknowledged by the receiver as legitimate) where the speaker has the right to speak in a particular context/situation. Thus the usage of language is rarely a pure act of communication.
When it comes to the use of language in governance both NPP and NDC exhibit deficiency in mastering the art of using language to convey their message without resorting to insult. I'm not an expert of linguistics but I know that both the NPP and NDC need to master the use of language in politics. What baffles me is that, these people are addressing each other as "GANGSTERS" and "CRIMINALS", but do expect us to address them as "HONOURABLES". On this note, it is my humble appeal to Mr. Akotia to start Re-Branding the Nation from our political leaders, as the rot in a fish begins from the head.
Adamu Abdallah Awudu, MA (Planning and Urban Design)
Email: [email protected]