LOOK WHAT DEMOCRACY HAS EARNED US!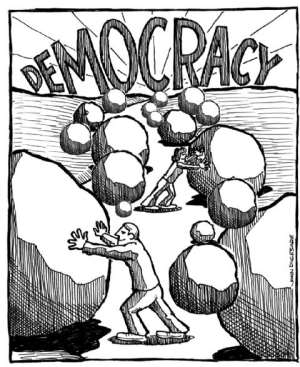 The White House has never been equivocal about the reason why Ghana was chosen above all others as the take-off country to kick-start the visit by America's first African-American President to Africa.
Aside of the official statement that announced the choice of Ghana, two other highly placed White House insiders, of no lower than the rank of Assistant Secretary of State, have declared — almost as if they cared less who was listening — that the choice had everything to do with Ghana's democratic credentials.
To the outside world — which has watched with some degree of trepidation, the conduct of elections in Africa, what with stolen verdicts, abuse of incumbency and muscling of political opponents — Ghana has become one bright spot in a continent of woes.
Every Ghanaian everywhere can now keep his or her shoulders raised: one could easily notice the proud steps of compatriots wherever we find ourselves. It is almost a re-living of the "good old days" during the First Republic when a Ghanaian was a worthy ambassador of Africa.
It was the time of Dr Kwame Nkrumah's "African Personality" concept.
Many Ghanaians today who lived in the First Republic are almost certain that those days are coming back.
That, also, is why the Ghanaian Times, in this opinion column, is pleading with all of the country's politicians to be circumspect in their political talk.
While not, for a moment, suggesting that people should allow their throats to be slit without a whimper, we are advocating that the impression should not be created that Ghana has become ungovernable.
On the other side of the fence are bootlickers who see their opportunity of advancement only in issuing statements of support for every government decision, programme and statement.
That takes us way back into the realm of the donkeys in George Orwell's Animal Farm where Comrade Napoleon was always right.
Those people are the real pull-him-down, because they blind our leaders with lies and distortions of reality.
They have perfected the art of whispering into big ears and praising Presidents and other leaders for everything and every deed.
They were close to Kwame Nkrumah. They were the ones who got Nkrumah to ban a harmless song as 'Ponko Abodam' by Kwame's own friend, E.K. Nyame.
They were close to Dr. Busia – in which regime emerged a joke about "Two-man".
In-between Busia and Limann was the era known as "the mother of all sycophancy" in Ghana. All manner of movements sprang up.
For the 24 hours of the day, their main pre-occupation was to ensure the targeting of their personal enemies and placing them on Acheampong's table as the "enemies of the revolution".
Before the Head of State had time to investigate, those elements had succeeded in securing either a dismissal or a detention, especially when it came to the era where the enemy was the one who as much as whispered a word of caution about Union Government.
We hope that there will be fewer of these elements in this regime.
Fortunately for Ghana, the President, Professor John Evans Atta Mills, has declared what his friends describe as "zero tolerance for witch-hunting." So let it be said of him; so let it be written, even by his enemies, and opponents of his government.