President Mills at a hundred days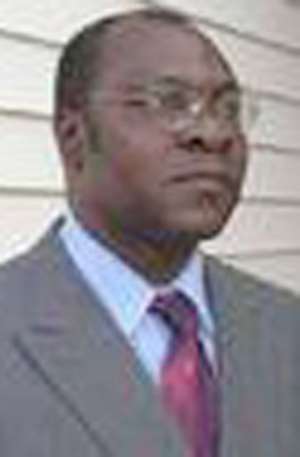 No matter how it is counted, in the next week or so, all will agree that President John Evans Fiifi Atta-Mills has been in office for a hundred days.
Over the week-end, on some T.V. stations, there were hints of the Public Relations campaign being planned to convince Ghanaians that this has been the best hundred days in Ghana's history.
In clips that looked dignified and sincere, there were many of our respected icons, touting the achievements of the NDC. There were the likes of the revered Ben Ephson, the respected Emmanuel Bombande, the admired Jean Mensah and others, all in effect, in their own way toasting the "Asomdwehene" for his masterful handling of our dear nation these last hundred days.
Some talked of how free the Press is. Others talked of a new era of respect for the political parties. Others talked of how good a listener the big man is. One even capped it by declaring gravely "SO FAR ---SO GOOD". Oh really? Tell that to President Rawlings.
After hearing about how good things are, I had to pinch myself to confirm that I was still on this side of life and that the nation they were talking about was the same one I have been living in the last one hundred days.
I recalled that once, a Southern U.S. Senator who was much respected was accused of making false claims. When confronted, the Senator is reported to have asked gravely in his distinguished Southern accent "Now, who are you going to believe? Me or your LYING EYES?"
The Mills team has started operating on the assumption that one can only see something when one believes it exists. Therefore, they believe that if we believe passionately enough that things have gotten better, things will indeed, be better. While I am sure that one can find some good things if one searches hard enough, I was surprised at the one-sided nature of the planned documentary.
In the parts of the documentary that I saw, I was expecting that there were some issues that were unavoidable if one was seriously discussing the performance of President Mills and the NDC.
I thought someone would discuss the garbage the President pledged to clean up in his first hundred days but not a word was uttered on that.
I thought that someone would discuss the small decrease in petrol prices followed by the DRASTIC INCREASE but not a word was uttered on that.
I expected the coup-era seizure of vehicles followed by half-hearted apologies by the Presidency in the era of the "ASOMDWEHENE" to be addressed but not a word was uttered on that.
I expected that the shameful treatment of former President Kufuor would be discussed but not a word was uttered on that.
I had hoped that the attacks on NPP members at Agbobloshie and other places would be discussed but not a word was uttered on that.
I had hoped that the depreciation of the cedi would be discussed but not a word was uttered on that. Now, I can go on and on but let me stop here.
Seriously though, how are they going to say that President Mills has assembled a first-class team when his former boss, President Rawlings has said, on record that there are mediocrities in his team?
The Presidency and Parliament are in the position of claiming that they did a great job in nominating and approving Ministers when the former President, who ought to know, is asserting flatly that mediocrities have been foisted on the people of Ghana.
How are they going to claim that they fulfilled their pledge to reduce the price of fuel drastically when they have in fact, increased the price of fuel?
How are they going to claim that the government listens to its party when from north to south and east to west, NDC functionaries are protesting that their input was ignored in the selection of many DCE's?
How are they going to tell us that they have cleaned up our dirty neighbourhoods when we know that more garbage has piled up?
The issue here is not the fact that the NDC government could not fulfill MOST of the promises it made for its first hundred days.
Every serious Ghanaian knew that these promises could not be fulfilled. After all, in their first dance with power, they had had nearly two decades and yet failed to tackle many of the problems they were pledging to solve in just one hundred days. The issue is truthfulness in politics.
To win power, they were making promises the way a starved child eats cookies left, right and centre. They told every lie they could get away with. They accused their opponents of every crime imaginable.
It is said that one should be careful what one wishes for. They wished for power---- at any cost and now they have it. Let them deliver on their promises.
The sad part is that instead of admitting that they promised too much, they are about to tell more lies in a futile effort to persuade us that things are really going well.
They should not bother because we can put our hands in our pockets and know that there is no money in our pockets. We can look into our neighbourhoods and know that the garbage is still piling up. We can listen to President Rawlings and know that our President moves too slowly when he heads in the right direction, heads in the wrong direction often and is surrounded by mediocrities.
While true partisans would be happy at this, every true nationalist must be concerned.
We must be concerned because till the next election, President Mills and the NDC is all that we have.
Let the President and his team stop worrying about who is driving which cars and get to work tackling the serious problems that we face--- like the carnage on our roads.
Let him get over his fixation with ex-gratia and focus like a laser-beam on job-creation.
Let him stop insisting that he is the only President elected by Ghanaians and show that he is the President by fighting poverty.
Let him improve our health infrastructure and there will be no doubt about who is the President.
As far as Parliament is concerned, I hope they have learned their lesson. For President Rawlings to describe ,a government that they have spent the task-payers' money to screen, as filled with mediocrities is a very serious criticism of their work.
I was worried when it appeared that President Mills himself was tougher on his nominees than Parliament was. While he withdrew two, Parliament passed all of them and the former President has called them on it. Let our Parliamentarians know that parliamentary oversight of the executive is just as important as law-making and help President Mills be the best President he can be.
To our leaders, including those who were interviewed in the documentary, I urge that we speak truth to power, not just sometimes, but always.
When we are leaping over one another to offer praise when it is not deserved, we give our rulers the false impression that all is well when it is not.
There are times when praise is truthful but out of context. Let us be, whenever we can, the voice of the voiceless and the conscience of our nation.
Let us all pray that God will give our President the wisdom to guide our nation in the next four years.
But over and above all, from the lessons of these hundred days, let us pray that the Lord will grant our politicians the courage to be candid with us and our voters the wisdom to tell the difference between truth and lies.
God bless our homeland Ghana And make our nation great and strong Bold to defend for ever The cause of freedom and of right Fill us with true humility MAKE US CHERISH FEARLESS HONESTY And help us to resist oppressors' rule With all our will and might for ever more AMEN! AMEN! AMEN! ARTHUR KOBINA KENNEDY