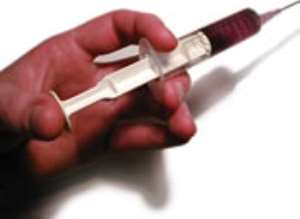 It has become common knowledge that people care about their appearance than the environment that they live in. Modernity and education have created the inpression that keeping the body clean is one of the basic steps to good health and hygiene.It is therefore not suprising that people give priority to their hair and nails, and relegate other aspects of their health to the background.
Barbering and the Ghanaian society
Hair cutting has become one of the commonest occupations, especially among the youth, since they are easy to start and have ready customers. In the western countries, it is not compulsory for girls of high school to cut their hair, but the opposite is the case in Ghana- thus giving market to those who practice the trade.
According to Mr. Simon Benkrah, a barber, he uses hair cutting machines to shave the hairs of his customers. He ussually places the machines in a sterilizer as a means of sterilizing them.
He claims to use a razor, in addition to the machine to do his barbering work, and that each customer is entitled to one razor. Simon however, was economic with the truth as most barbers use one razor or mahcine to barber more than one customers
To make matters worse, most of these barbers do not have permannent place of work but hawk around to get customers.
To another barber, Owusu Adjei, hawking around for customers does not give him the chance to use the hair cutting machine though he claims to have one.
Just like Simon, he uses one razor blade for more than one customer, especially kids whose hair are low and their mothers do not pay much attention whilst shaving them.
He is, however, careful with adults since they know the implication for using one razor on more than one person, because they insist on their right to 'one man one blade'.
Nail Cutting
Unlike in the past where people use to cut their nails in their home, modern day manicure and pedicure have taken over. According to about.com, a manicure is a cosmetic beauty treatment for the fingernails and toenails, either performed at home or in a nail salon by a nail technician. A manicure treatment can be done for the hands or nails, or can be for both.
A common manicure found is the filing, shaping of the nails and the application of polish. There are also manicure services that are specialties for the hands and feet. For the hands, the soaking of a softening substance and the application of a lotion is a common specialty.
Another common specialty is applying a similar treatment to the feet and toenails which is called a pedicure. Manicure, these days, is considered as one of the significant part of beautifying women and men. Apart from the purpose of beautification, it is as well done to prevent the nails from chipping and cracking.
Local Manicure and Pedicure
Compared to the way and manner beauty shops deal with nails, people operating on the streets have their own way of operating. Some youth have gone into the business and have all of a sudden become experts. Unlike in the beauty salons where operators make hygiene and sterilized instruments their priority, those hawking on the streets do not have same standards. Despite this short fall, their services are well patronized with the reason being that they charge relatively low fee of GHp20.
Consequences
The unhygienic way of shaving the hair and shaping nails is a serious treat to the future of the nation because it is easy for one to contract a disease. According to statistics, 200 people contract the HIV virus everyday and which could be partly attributed to the unconventional way that these barbers go about their trade.
Though the Director-General of the Ghana AIDS Commission (GAC), Professor Sekyi Awuku Amoa, says Ghana's HIV prevalence rate is one of the lowest in Sub-Saharan Africa, Ghanaians must still be careful.
The rusted and old razors and instrument being used by the aforementioned people have the tendency of transferring tetanus to their clients. According to Wikipidia, tetanus is often associated with infection from rusted metals, especially nails. But this concept is somewhat misleading.
Objects that accumulate rust are often found outdoors, or in places that harbour anaerobic bacteria, but the rust itself does not cause tetanus nor does it contain more C. tetani bacteria. The rough surface of rusty metal merely provides a prime habitat for a C. tetani endospore to reside, and the nail affords a means to puncture skin and deliver endospore into the wound.
An endospore is a non-metabolising survival structure that begins to metabolize and cause infection once in an adequate environment. Because C. tetani is an anaerobic bacterium, it thrives in an environment that lacks oxygen. Hence, stepping on a nail (rusty or not) may result in a tetanus infection, as the low-oxygen (anaerobic) environment of a puncture wound provide the bacteria with an ideal breeding ground.
Conclusion
The work of these people is a good way of creating employment, therefore it will be in the interest of the government and the society if government brings them under one umberalla and give them proper education.