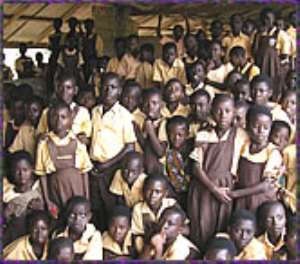 Vice President John Dramani Mahama on Monday reiterated government's determination to reduce the cost of tuition in public schools to enable students from deprived communities have access to formal education.
He said government would work progressively towards writing off some of the charges that currently made it prohibitive for students with poor financial background to have access to formal education.
Vice President Mahama announced this when a delegation from the Board of Governors of Anlo Senior High School (ANSECO) paid a courtesy on him at the Castle, Osu on Monday.
The delegation led by Mr Clement Kofi Humado, Member of Parliament for Anlo was to invite Vice President Mahama to participate in the 50th anniversary celebration of the school this year.
He said government was working to ensure all children, regardless of their financial status, benefited from formal education as expected of modern societies.
Vice President Mahama lauded the founding fathers of the school and reiterated the commitment of President John Evans Atta Mills to build on the solid education foundation started by President Kwame Nkrumah that created access for all students regardless of their social background.
"We would work to ensure that all our children enjoy formal education," he assured.
On the debate over duration of senior high schools, Vice President Mahama was emphatic about the decision of government to engage stakeholders in arriving at a decision over the issue.
He said President Mills had tasked the Minister of Education to seek public consensus over the issue.