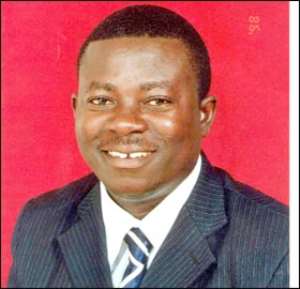 Mr Dwomo Adjei THE NDC constituency members at Nkoranza North have unanimously denounced Mr. Kwadwo Adjei Dwormor, who is aspiring to become the DCE of the district. 
In a letter signed on behalf of the executive members, Mr. Kofi Adu-Bediako, the constituency secretary indicated that Mr. Dwormor, popularly called Nana Agyentutu has no respect for them and also refused to campaign with them during the presidential run-off even though he was the parliamentary candidate.
The executive members noted that Mr. Agyentutu lied to them when he promised during his vetting that he will provide logistics for the campaign but sadly, it turned out that he had nothing at all.  As a result of that promise which did not materialize, the party had to go into the 2008 general elections with scarce resources. 
According to Mr. Adu – Bediako, because the party had hope of the aspirant delivering his promise, they did not bother to look for logistics anywhere.  He said Mr. Dwormor told them that he was married to a woman overseas, who he said, would send him five pick-ups, fifty bicycles among others but unfortunately, not a single item was delivered.
According to the executive members, they have since sent a petition to the National as well as the regional headquarters of the party and are waiting for a reply.  They warned that if the regional and national executives of the party treat their petition with contempt and nominate Mr. Dwormor for the position, it will be disastrous.  
Speaking to Classic FM in an exclusive interview, Mr. John Worae, the Nkoranza North constituency treasurer of the NDC, said they will go all out to make sure that Mr. Agyentutu's bid for the DCE position is blocked and appealed to all members of the Nkoramza North Assembly to reject him if his name is mentioned. 
The constituency Organizer of the NDC who also spoke to DAILY GUIDE told this reporter that, Mr. Dwormor worked his way through the regional executives of the party in the run-up to the party's parliamentary primaries in 2008 and got himself elected to be the parliamentary candidate for the party even though he was not known in the constituency.
In a related issue, the group also reacted to a Jerry FM news item which stated that the impasse between the executive members and Mr. Agyentutu had been settled.  They said they still stood by what they said and will never budge until Agyentutu leaves the political scene in the constituency.
From Eric Bawah, Busunya