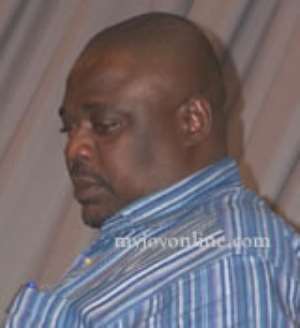 'Language has become more important in post modern democracy due to social changes which have transformed politics and governments. One important part of these social changes is the 'new relationship between politics, government and the mass media'. The language of political leaders is now recognized as a crucial factor in political success or failure (Fairclough, 2000)'
In an article published on www.modernghana.com on 13th March 2009, I raised concern on the performance of the Koku Anyidoho with regards to the use of language on his first assignment as the government's chief spin-doctor. I also warned that if Koku does not learn to master that art and science of the use of Language in governance, as required by his capacity as the chief spin-doctor, then we are in for another four tormenting years of 'Hon. Asabee' of 'Kokonte' fame. I hardly put my pen down to wait for the next cock-up- Lo and behold Efo Koku has cocked-up again. This time it is with regards to the acquisition of a Ridge residence to be used as an office by the office of Ex-President Kufour.
In line with my earlier article, this article is not intended to argue on the merit of whether it was right or wrong for the office of the ex-president to use the Ridge residence as office before due processes are completed, however I will digress slightly into the issue to bring to light my assertion that, when it comes to use of language in governance (spin-doctoring) - NCD (Koku) versus NPP (Asabee) - 'the value is the same'
With all due respect, ex-president Kufour has fallen short in his acquisition of the Ridge residence to be used as office, without waiting for due process to be completed. Mr. Mpiani , one of his spin-doctors tries desperately to justify the acquisition by clinging to the hollow excuse that "although the official letter requesting government to approve the use of the building was sent to the presidency on February 5, he picked up information later that the letter had not arrived at its destination" (www.myjoynline.com, 14th March 2009). This excuse rather exposes the office of ex-president to more ridicule and hence bashing from the good people of Ghana. Instead of accepting being at fault and apologizing to the good people of Ghana, what did we get -Exhibition of the arrogance that sent them to opposition. Mr.Mpini boastfully asserts that whilehe admits that Mr.Kufour staterted using the residence as his office before the permission letter was sent to the President mills, "The former chief of staff dismissed suggestions that the former president was wrong in appropriating to himself a state asset without express permission from government" (www.myjoyonline.com. 14th march 2009)). It is sad that people we entrust some of the highest office of the land could throw caution into the air (or act without regards to the rule of law) and approach an issue of national significance like buying tomatoes from Makola market. Seeking for permission does not necessarily translate to granting of permission. Hence there will be no justification for the office of ex-president Kufour to acquire the said building before permission is granted, even if permission would have been granted anyway, as it turned out to be.
Having had another opportunity to exhibit his professionalism when faced with a PRO challenge, Efo Koku failed again. He was all over himself in his response and like always portraying an intention of vengeance instead showing restrain and maturity and handling the issue like the way he will have done with any citizen who occupies state property without permission. As the government's chief spin-doctor, Efo Koku, should have calm tempers over the issue but rather he waged into what Isaac Yeaboah of Asempa FM refers to as "Pronouncements from some members of government (that) have sought to reprimand the former President for wrongfully appropriating the state bungalow…public debate over the acquisition particularly in the media, have largely been reduced to insults across the political divide".
In my last article, I concluded that Efo Koku's performance can be inferred to as an act of arrogance or excused as political immaturity. I will for now stick to the latter and wish Efo Koku will take lessons from the more matured and experienced Mr. Paul Victor Obeng. Mr. Obeng did not waged into the vendetta but used his maturity to calm tempers, as Asempa FM continues, "P.V. Obeng wondered where all the agitations, accusations and counter accusations had emanated from and said such unnecessary conducts only set the present government against the former, suggesting also that perhaps the issue would not have erupted if due documentation processes had been completed in time". PV's response has further exposed Koku's incompetence as the Director of Communication, in the fact that PV's response will put the matter to rest and free out precious time which can be channeled towards the development of the nation, and not dilly-dallying on the issue. If Koku should have used his office to crosscheck, he could also have been informed that, 'Mr. Obeng said he personally conveyed ex-President Kufuor's request to President Mills orally, who he said readily agreed to the request provided his predecessor was comfortable with it". However, Efo Koku 'Jump on the opportunity to rant and rave' (in Ato's terms) on the air about the acquisition of the said property by the office of the ex-president. Still on my position in my last article, I still wonder why Efo Koku will prevent anybody from believing that his position is not 'another job for the boys'
If Fairclough's theory that, the language of political leaders is now recognized as a crucial factor in political success or failure (Fairclough, 2000) is anything to go by, then Efo Koku has a lot learning to do, and I suggest that Mr. Obeng (former special adviser on governance) could be a valuable resource person from whom Efo Koku could learn to master the art and science of language in governance. As it has being the tradition in Ghana nowadays, whereby people from all walks of life remind the President on campaign promises, I will like to take the opportunity once again to remind President Mills that, he said accountability awaits him at the end of his term, and I can assure him that if he keeps Efo Koku as his spin-doctor without refining Efo Koku's language, he (President Mills) will not take delight in reading his terminal report at the end of his first term despite what achievements he may have choked in his term. Over to you Efo Koku and I hope you will not let us keep our fingers cross for the next cock-up.