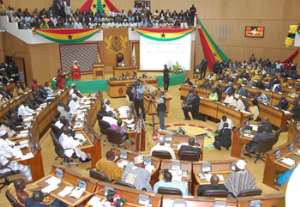 Some Members of Parliament (MPs) have expressed concern over the delay of proceedings in the House since the inauguration of the Fifth Parliament of the Fourth Republic.
The MP for Sekondi, Papa Owusu Ankomah, was the first to express concern when he observed that despite the fact that sittings were expected to start at 10 a.m., more often, sittings started quite late, sometimes around noon.
He said he had been compelled to raise the issue on the floor of the House since "all attempts to urge leadership to do something about it had failed".
He urged the Business Committee to discuss the issue of the time for the commencement of sittings, adding that if the committee found the present time for the commencement of sittings inappropriate, then they could have a second look at it.
Papa Owusu Ankomah stated that the present situation whereby MPs come for sittings late is embarrassing.
The MP for Odotobi, Mr Emmanuel Akwasi Gyamfi, echoed the sentiments of his colleague from the Minority side, stressing that the issue was a serious one that must be addressed.
He said there was not a single time that sittings in the House had started on the time stipulated in the Standing Orders.
Mr Gyamfi called for the introduction of measures to address the trend, stressing that the House had a lot of work to do and needed adequate time to conduct its business.

The Minority Leader, Mr Osei Kyei-Osei-Bonsu, also shared similar sentiments and stated that if the House could start its sittings earlier, it would be helpful. "It's not been too bad but we can do better," he stated.
The MP for Tamale South and Minister of Communications, Haruna Iddrisu, also agreed with his colleagues but added that there had been compelling reasons that had necessitated the late start of sittings in the House.
He urged the leadership of the House and the Speaker to find out how best the issue can be addressed.
The MP for Atwima-Mponua, Mr Isaac Asiamah, also expressed worry over the number of days that had been allocated by the House to debate the 2009 Budget Statement.
He said for a budget that was supposed to cater for government business for a year, more days should have been allocated for its debate.
The MP for Wa Central, Abdul Rashid Pelpuo agreed with Mr Asiamah on his submission, but stated that under the present conditions, the House did not have the luxury of time and said in future more time could be allocated to debate budget statements.