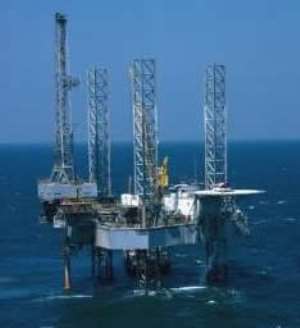 Exploration group Tullow Oil slid 54.5p to 758p, making it one of the biggest fallers in the leading index despite the company announcing full year profits had jumped from £53m to £226m.
Analysts said the results were helped by a favourable tax charge, as well as asset sales and rises in oil and gas prices. Tullow, which announced a large oil find in Ghana earlier this week, also said its oil finds in Uganda were large enough to justify development. On the negative side the company reported a 9% drop in production. Jonathan Jackson, head of equities at Killik & Co, called the results indifferent, saying:
"Market expectations appear to have only been achieved as a result of the lower tax rate."
Analysts at RBS, whose Hoare Govett division is broker to the business, were more positive:
"Tullow remains a key buy in the sector on the potential upside from the drilling campaign bolstered by the development of the world class Jubilee field [in Ghana]."
Still in the oil world, exploration and production group Cairn Energy lost 74p to £17.96 as it raised £116m with a placing of 6.5m shares - around 5% of the company - at £17.75 each. The proceeds will be used to build additional pipelines in India and potentially to accelerate production at some of its fields in the country.
The sector was not helped by weakness in the crude price, which dropped around 50 cents to just over $43 a barrel on news that US oil inventories were rising and demand was falling.
Banks were also under pressure. Standard Chartered slipped 11.5p to 798.5p as analysts at UBS moved their recommendation from buy to neutral, although they did increase their target price from 730p to 780p. They said:
"Our forecasts are unchanged, while our price target rises by 50p to reflect recent sterling weakness and a 0.2% higher sustainable return, given increased comfort on the balance sheet. However recent share price strength leaves the relative valuation somewhat full, at more than twice that of the sector."
UBS's actions as well as its analysis also had a negative effect on the market, after the Swiss bank's management admitted it had lost £12bn in 2008, an even higher figure than previously thought. This cast a cloud over the whole banking sector, just a day after the optimism of Citigroup's leaked memo showing the US bank was in profit so far this year.
So Lloyds Banking Group lost 6.3p to 44.5p and HSBC lost another 25p to 374p in the wake of its rights issue. Its shares are due to trade ex-rights tomorrow. But Royal Bank of Scotland, after spending much of the day in the red, edged up 0.2p to 21.2p and Barclays was 2.5p better at 70p awaiting news as to whether or not it would participate in the UK government's bailout scheme.
Overall the FTSE 100 ended down 21.42 points at 3693.81 despite Wall Street managing to stay in positive territory by the time London closed.
Defensive stocks continued to be out of favour as institutions cashed in their liquid holdings so they could stump up cash for the growing number of rights issues being announced. British American Tobacco fell 108p to £17.06 as it went ex-dividend and analysts at Nomura cut their price target for £15.25 to £14.95. Telecoms were also unwanted, with BT down 3.7p to 71.4p on worries about its dividend payout.
Among the utilities International Power dropped 11.3p to 193.7p as it unveiled a 16% rise in full year profits but warned the 2009 figure was likely to be lower because of falling energy prices.
The risers included mining group Xstrata, which added 23p to 346.25p as its 35% shareholder Glencore eased concerns about its financial position alongside in line results, while property group Hammerson was lifted 8.5p to 231.5p by positive noises from both Credit Suisse and Collins Stewart.
Car dealer Inchcape added 0.25p to 42.75p despite City talk of a possible £200m cash call, but chilled foods group Uniq slipped 2p to 13.25p after full year losses climbed from £44m to £54.8m (including goodwill and asset writedowns), and it said it would consolidated its north European operations.
GW Pharmaceuticals jumped 19.5p to 59.75p after it reported positive phase 3 trials for the use of its cannabis-based Sativex treatment for multiple sclerosis. In a buy note Investec said:
"Following today's trial result we expect GW to file for approval with the MHRA (the European regulator) within the next three months. Given the regulator has seen most of this data before, we feel the approval process should be fairly quick and GW should see the result of its application within six months post filing. We also feel the risk of the regulator refusing approval is low, based on (1) the fact the regulator effectively designed the trial for GW; (2) the regulator has previously stated that Sativex is safe, and today's trial was needed only to prove efficacy; and (3) the fact that today's trial is so clearly positive."
Finally security specialist SectorGuard lost 0.125p to 1.5p as it announced the purchase of parking services business Legion Group. Legion is part of the Royal British Legion Attendants Company Trust, set up in 1923 to help provide work for ex-servicemen and women. As part of the deal SectorGuard will buy the business for £1 and pay the trust £100,000 a year for ten years. The company has also raised nearly £200,000 towards integration costs with a placing of shares at 1p each, and will receive a £1m loan from chief executive Mark Higgins.