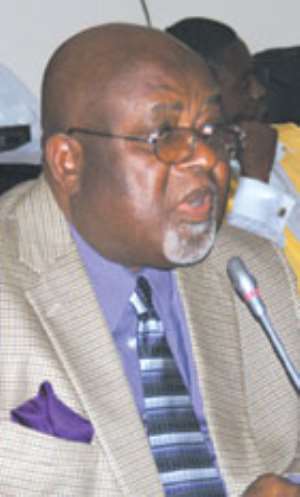 Few days after the former Director of Manpower and Personnel of the Ghana Armed Forces, Colonel Kwadwo Damoah chastised former President J.J Rawlings for polarizing the military, the residence of the former was yesterday attacked by a group of unidentified armed men.
The Chronicle gathered that Col. Damoah, who was not home at the time, after getting hold of the information, fled to an unknown destination and nothing has been heard of him since.
Checks from his office at the Army Headquarters revealed that he did not report to work yesterday, and no word has been heard from him as well. Speaking to The Chronicle in an interview, a family member, Mr. Samson Kwesi Osei, a business man, said that the official Cantonment residence of his cousin, Col Damoah, has been invaded by unidentified people, rendering the place not conducive to stay.
He said for fear of their lives, Col Damoah's wife and children are packing out of the residence to a destination he was not ready to disclose, for security reasons.
According to Mr. Osei, earlier in the morning, Col. Damoah called to tell him that he had gotten hold of details of a meeting held by eight Military officers which resolved that he should be eliminated.
Asked whether any of the family members were hurt after the raid, he said there was no physical injury but psychologically they were recovering from the trauma.
He noted that he was going to the Criminal Investigations Department (CID) to lodge a formal complaint about the disappearance of Col. Damoah, adding that he was hopeful the Military man was not dead, but has ran away.
Meanwhile, the Deputy Director of the CID, Mr. Ken Yeboah confirmed to The Chronicle that the CID was still investigating the matter.
"Yes, we are investigating reports of threat on the life of Col Damoah," the CID boss stressed when questioned about the story.
The Chronicle reported this week that Col. Damoah testified before the Board of Inquiry (BOI)) which is investigating the qualification of the 420 army potential recruits, that former President Rawlings had polarized the army through his unguarded statements.