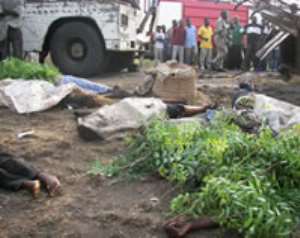 A circuit court judge in Cape Coast, Mr Beresford Acquah, on Tuesday expressed concern over the spate of traffic offences that often lead to accidents and attributed the situation to driver indiscipline.
Mr Acquah, therefore, urged drivers to endeavour to change their attitudes and be "civilized" anytime they were behind the steering wheel.
He also asked the police to intensify their patrols to check over-speeding on roads within the cities and towns.
The judge, expressed these sentiments when he remanded Emmanuel Acquah, a driver of an Opel Astra Saloon car with registration no. GT 4140 X in custody for 24 hours for over-speeding.
The driver pleaded guilty to the charge and his sentence was deferred to Wednesday March 4, 2009.
The prosecution earlier told the court that last Thursday, a patrol team from the Central Regional Motor Transport and Traffic Unit (MTTU), arrested the driver, who was driving at a speed of 64 kilometres per hour instead of the normal 50KM per hour at Eyisam on the Cape Coast–Accra Highway.
In another development, the court also sentenced another driver, Martin Asamoah, to a fine of GH¢1,100 for careless driving and negligently causing harm.
Asamoah, who pleaded guilty to both charges, would in default serve 15 months in prison.
The prosecution told the court that on 13 February 2009, at about 1910 hours Asamoah, who was driving an articulated truck with registration number AS 6516 D from Kumasi towards Takoradi, drove carelessly and his vehicle grazed the offside bumper and fender of an Opel Vectra ahead of him at Pedu, a suburb of Cape Coast.
It said in the process, the Opel Vectra also hit a KIA Pride taxi cab and that both vehicles got damaged, while the driver of the taxi sustained injury.
The court ordered that GH¢200 of the fine should be given to the driver of the taxi as compensation.