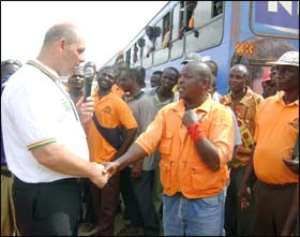 A driver explaining his grievances to Henk Visschers, Metro Mass MD STAFF MEMBERS including drivers, conductors and mechanics of the Metro Mass Transit Company yesterday embarked on a nationwide strike, which could best be described as furious but peaceful.
The strike action, which crippled the activities of the company, left hundreds of commuters stranded at bus terminals across the country.
School children who enjoy free services of these buses were also seen at different locations stranded as a result of the sudden action by the drivers.
Meanwhile, reasons for the strike were that management had failed to acknowledge their efforts ever since the workers' union went into a Standing Joint Negotiation Committee (SJNC) meeting with management on February 27.  
The workers, clad in red wristbands and the company's orange coloured T-shirts, were seen in various groups either strategizing how to deal with the issue at hand or expressing their candid opinions about the way management was maltreating them.
DAILY GUIDE observed that besides mounting pressure on management and calling for a 50 percent salary adjustment across board, the demonstrators did not cause any harm or vandalize company property.
All vehicles were parked at the Kaneshie main yard, exactly where the workers were expressing their grievances.
Speaking to this paper, Divisional Vice Secretary of the Workers' Union, James K. Arthur indicated that they had been in several negotiations with management since November last year but to no avail.
The latest to be held was on February 27. As part of their petition to management, drivers, conductors and mechanics, according to Arthur, must receive an increased salary of GH¢250, GH¢180 and GH¢220 respectively.
They are currently receiving a gross pay of GH¢120, GH¢100 and GH¢110 and after all other deductions have been made, their take-home pay falls to GH¢90, GH¢65 and GH¢85 in that order.
On the other hand, he hinted that the Managing Director of Metro Mass, Henk Visschers, on his own volition, decided to give "us a ten percent increase and we told him the Labour Act does not allow that," explaining further to him that it is only the SJNC that negotiates on behalf of workers.
Due to these developments, Arthur noted that they served Visschers, the Trades Union Congress (TUC) and the Labour Commission a letter stating their intentions.
For him, if the Board could address their grievances within the shortest possible time, they would go back to work, otherwise "no one should blame us".
"It is disheartening though to see our customers suffer but it is not our wish to lay down our tools," he pointed out. The workers have since called on government to help resolve this issue.
Meanwhile, information gathered by DAILY GUIDE indicated that Mr. Visschers, a Dutch, allegedly paid attention to vehicles imported from his country, leaving those from other origins such as China and India to deteriorate.
Two of the workers, Joseph Dankwah and Joseph Adu, both drivers, have been suspended for causing damage to company vehicles and are being surcharged GH¢324 and GH¢958.40 respectively to cover the cost of repairs.
As at press time yesterday, a news release was issued by Henk Visschers, expressing disappointment by the decision of union executives to influence unionized staff to lay down their tools.
It however apologized to the company's loyal customers and the general public for the inconvenience the temporary holdup had caused them yesterday morning.
"We wish to assure our loyal commuters and the general public that management is making strenuous efforts to resolve the issues and restore our services as soon as possible," the statement added.
Thus, it urged all workers concerned to resume duty as efforts were underway to resolve the outstanding issue amicably.  
By Nathaniel Y.Yankson