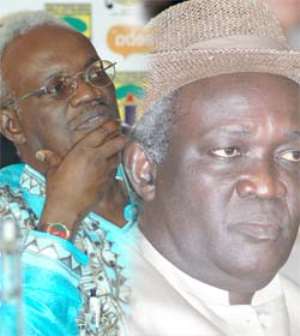 Ato Ahwoi and Kwamena Ahwoi As the vetting process goes on and President John Evans Atta Mills' government takes shape, indications are that all is not well within the ruling National Democratic Congress (NDC) with regard to the appointments made by the President.
The Number One Citizen, inside sources say, appears to have been held hostage by powerbrokers within the NDC, leaving some party gurus fuming with rage over the overbearing influence of these elements.
Some powerbrokers are said to have reserved juicy positions for themselves while others fix their surrogates in equally mouth-watering ministerial positions.  
DAILY GUIDE has gathered from deep-throat sources that following his endless promises to party faithful, President Mills is having a lot of headache over how to keep his word and halt the on-going petulance that has rocked the party.
The swift internal undercurrents, which cut across nearly every constituency where the President has failed to make nominations from, strongly suggest that the smiles seen on some faces of NDC Members of Parliament during the on-going vetting sessions may be cosmetic.
The paper is reliably informed that supporters of over a dozen MPs and several other party stalwarts are fuming over the exclusion of their idols, with some threatening to embark on a demonstration if President Mills' ministerial nomination list finally ends without their idols' inclusion.
Even though the President still has several non-ministerial appointments to make, party members are worried that 'real party men' could be left out.
A secret list of fresh nominations sighted by DAILY GUIDE indicates that loquacious Samuel Okudzeto Ablakwa has been penciled for deputy Information Minister, while Dr. Omane Boamah of the Korle-Bu Teaching Hospital will be nominated as deputy Minister for Science and Environment.
DAILY GUIDE has further gathered that the following personalities would be appointed board chairmen of very important state institutions with a lot of cash at their disposal.
They are Ato Ahwoi, Social Security and National Insurance Trust (SSNIT); Kwamena Ahwoi, Ghana Education Trust Fund (GETFund); Kofi Totobi Quakyi, Anglogold Ashanti; and P.V. Obeng, Ghana Ports and Harbours Authority (GPHA).
The name of Fiifi Kwetey, NDC propaganda secretary, also appeared on the list, but no ministry has been designated to him as yet, with speculations that he might be going to the Finance and Economic Planning Ministry.
In the midst of all these happenings, it is glaring that a lot of party people still remain on the lineup to be named, hence the grumbling.
Among the MPs whose supporters are peeved are E.T. Mensah, Alban Bagbin, John Tia, K. Barton-Oduro, Abukari Sumani, Capt. George Nfodjo (Rtd), Felix Twumasi-Appiah, Michael Nyaunu, Kosi Kedem, Alfred Agbesi, and Dr Mustapha Ahmed.
Other prominent NDC gurus sidelined in the nominations are Ekow Spio-Garbrah, Dr. Benjamin Kumbuor, Dr. Tony Aidoo, Kwesi Oppong Fosu, Kofi Attor, Daniel Ohene Agyekum, Rojo Mettle-Nunoo, Lee Ocran, and Ken Dzirasah.
The rest are Abuga Pele, Margaret Clarke Kwesie, Cecilia Johnson, Nasamu Asabigi, Martin Amidu (Shadow Vice President), Victor Gbeho, Joana Appiah Dwumoh, Dan Abodakpi, Quaynor Mettle, Akrasi Sarpong and Huudu Yahaya.
While some traditional leaders are said to be frantically pushing the President around to get their subjects in the lineup, other wings of the NDC party structure are being used.
For instance, the University of Ghana (UG) branch of the Tertiary Education Institutions Network (TEIN), the party's tertiary wing, is said to have called on the President to get a suitable post for Dr. Ben Kumbuor.
In much the same vein, some party activists in the Lower Manya Krobo constituency have asked President Mills to keep his word by giving their MP, Michael Teye Nyaunu, an appointment.
From the party's headquarters to the Osu Castle, DAILY GUID E gathers that head-loads of CVs continue to pour in on a daily basis for consideration for ministerial nominations.
For now, the NDC government has reduced the size of ministers to about 70, as against 87 by the previous administration.
This makes the chances of those still expecting appointments gloomy indeed.
By Bennett Akuaku