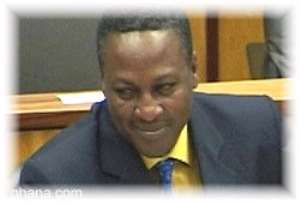 Ghana refuses to be outdone by America. America is the world's oldest democracy; Ghana is the brightest example of democracy to the African continent. America has the Roosevelts, the Kennedys, and the Bushes. Ghana has the Johns!
If you are aspiring to become the next president of Ghana, your first name better be John or change it to John because it appears Ghanaians are fond of the name John when it comes to choosing their presidents. Since the inception of the 4th Republic, the Johns have been hogging the presidency. The rotation has been from John to John to John! Jerry John Rawlings, John Kufuor and now John Atta Mills.
You think the Johns are done? Think again. The Johns might not be done yet. The Vice- President – elect, the next in line to succeed the president in an event of the unimaginable is, you say it -------------- John Mahama. In keeping with my advocacy for Ghanaians to rise above tribalism, I think it would actually be cool for John Mahama to succeed Atta Mills. Oh let me not forget about John Alan "Cash" Kyerematen who is lurking in the shadows ready to assume the mantle of the NPP, and possibly the Presidency.
Ghanaian parents, something to think about when choosing names for your kids.