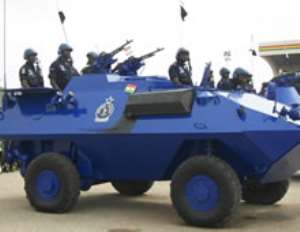 Election Day is not a day of emergency for the police to open fire on trouble makers, an expert in conflict resolution has said.
Mr. Emmanuel Bombande executive Director of the West African Network for Peace Building maintained, the only time security personnel are allowed to shoot to maim or kill is when a state of emergency is declared by the president.
The police on Wednesday threatened to open naked fire on trouble makers who attempt to put the December election into disrepute.
The Ashanti Regional Police Commander, DCOP Opare Addo was emphatic the police will not tolerate any acts by political activists that will interfere with the peaceful conduct of the elections.
However Mr. Bombande insists the measure is too extreme, unwarranted and unprofessional.
He told Joy News' Evans Mensah the measure adopted by police would rather intimidate innocent voters and scare away from exercising their franchise.
"It could be the ground for the exacerbation of tension which could have been handled," he added.
The message of the police, he noted, must be reassuring and enlighten electorates rather than intimidate them.
He advised the police to be assertive and respect the rights of individuals in carrying out their duties, adding "they must send a good message to the international community."
He challenged the police administration to define specific actions they perceive to be unruly on the day of the election, and which will provoke them to open fire.
In what appeared to be a response and a clarification, DCOP Opare Addo, reiterated his readiness to gun down any person who attempts to pick a ballot box on election day.
"Ballot boxes are not supposed to be stolen they are meant to be counted and president elected and declared."
He warned if anybody interfered with the ballot box he would not hesitate to open fire to maim or kill the culprits.
"I will do it and answer questions later" he added.
Asked if that measure would not intimidate voters from polling stations he response was blunt; "I am not a mad police officer, I know the nitty gritty of my profession."
Story by Nathan Gadugah