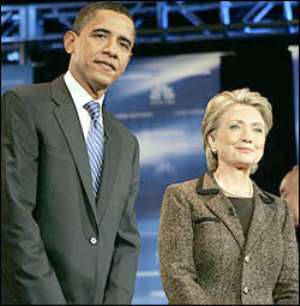 S President-elect Barack Obama is "on track" to nominate Hillary Clinton as secretary of state within a week, according to US media reports.
A Democratic Party official was quoted as saying the move would be made public after next week's Thanksgiving holiday.
The two sides have worked out financial disclosure issues regarding her husband Bill Clinton's charitable activities, the party official reportedly said.
The former president has offered to allow ethics reviews of his charities.
Mr Clinton has an international charitable foundation with operations in dozens of countries.
This latest move is seen as an attempt to address questions about whether his philanthropic activities would create conflicts of interest if his wife got the job.
There has been mounting speculation that Mr Obama would offer the New York senator the role of America's top diplomat since a meeting between the two a week ago was reported.
Neither Mrs Clinton nor Mr Obama has confirmed the reports.
But an aide to Mr Obama's transition team said the two had had substantive conversations about the job, the Associated Press news agency reports.
Mrs Clinton would have to give up her Senate seat, which she has held for eight years, to take up the position.
Recognition
Mrs Clinton and Mr Obama fought a long and often bitter campaign to be the Democratic Party's presidential candidate.
But after losing out on the nomination, she endorsed his bid for the presidency and campaigned for his election.
The BBC's Kim Ghattas in Washington says the appointment of Hillary Clinton would likely heal the rift inside the Democratic party caused by the bruising primary campaign.
Mr Obama would also come across as a confident leader, not afraid to reach out to rivals and surround himself with strong personalities, our correspondent says.
The economic crisis will be a priority for Mr Obama at the start of his presidency.
But with the US involved in two wars, in Iraq and Afghanistan, the former first lady would be able to hit the ground running on foreign policy, our correspondent says.
She would have instant international stature and recognition as secretary of state, and world leaders would welcome her, Kim Ghattas says.