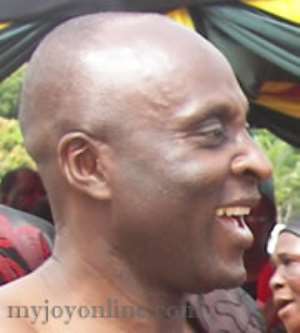 Nana Kofi Coomson, businessman and publisher of the Chronicle group of newspapers has challenged the National Democratic Congress, NDC, to reconcile with its 'sordid' past and leave him out of its politicking.
"Why should they use me to wage their campaign? They have nothing else to say, they know that they are losing the elections and it's desperate…a drowning man will clutch at a straw, so they are trying to …use my name because Kofi Coomson is a brand name."
Coomson was speaking in an exclusive interview with Myjoyonline.com Wednesday, in reaction to suggestions he might know of something palpably undesirable of New Patriotic Party, NPP, presidential candidate for Election 2008, Nana Addo Dankwa Akufo-Addo.
The suggestion, made by the NDC Forum for Setting the Record Straight on Tuesday, followed an earlier remark by Coomson that he would not dare to go to bed with his eyes closed if Nana Addo were to become President of Ghana.
The Forum therefore suggested that a member of the NPP passing such a comment about a party leader pointed to a danger Ghanaians needed to avoid by rejecting Akufo-Addo in the December polls.
But Coomson, who readily admitted passing that comment, said if there were records of a party Ghanaians ought to shy away from, it should be those of the NDC.
"What I know is about their record. They have a bad, bloody record and I can prove it…They have a murky record, everybody knows that it's a bloody regime. The antecedent of the NDC is PNDC and engaged in all sorts of atrocities…after all I was a victim," charged Coomson.
Explaining why he passed the comment in the first place, Nana Kofi Coomson said prior to the NPP National Delegates Conference in December 2007 which elected Nana Addo as flag-bearer, he had supported former Finance and Economic Planning Minister Yaw Osafo Maafo's candidature, as well as Boakye Agyarko.
"Remember there were 17, 19 presidential candidates and I supported Osafo Maafo. So it was in that context. NDC had four candidates running – Spio Garbrah, Eddie Annan and the others. So everybody had favourites just like NPP had, so when you win, your candidate wins, then everybody falls in line. If Osafo Maafo had won, everybody else would have fallen behind him…That's the context in which I said it."
"That was in the heat and remember I was supporting my candidate and was saying anything. Look people said worse things and Nana Akufo-Addo said it; those who supported him were at war with Aliu's camp…very, very bitter things so let's not compare what we said, it's all behind us."
Nana Kofi Coomson maintained that the remark was an 'idle' one which in any case has been 'heavily edited' by its propagators to harp on the one negative thing he said against Nana Akufo-Addo, while 'many strong, positive things' he said about him at the same time as the reference case, including high praises for his human rights credentials, have been omitted.
"NPP offers the best hope for all of Ghana and I urge Fifi Kwetey and his crew to turn around while there is still time, to endorse us, endorse the NPP because next year will usher in a government of Freedom and Justice" under Akufo-Addo's presidency, he teased.
Story by Isaac Yeboah