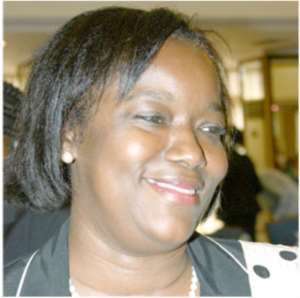 THE ACTING Commissioner for the Commission on Human Rights and Administrative Justice (CHRAJ), Ms. Anna Bossman has hailed Nana Akufo-Addo's commitment to sharpen the anti-corruption institutions in the country when voted into office in the December 7 general elections.
Ms. Bossman who was speaking on Kessben FM in Kumasi on Thursday said Nana Addo's position on strengthening CHRAJ was spot on, pointing out that one of the major factors militating against the smooth operation of the commission was its inability to launch investigations into alleged cases of corruption until formal complaints are made.
The New Patriotic Party (NPP) flagbearer had promised Ghanaians that his administration would not only fortify existing anti-corruption institutions but would particularly give power to CHRAJ to investigate alleged cases of corruption without formal complaint.
Nana Addo made the promise during the second round of the Institute of Economic Affairs (IEA) presidential debate in the Northern regional capital, Tamale on Wednesday evening.
He said the existing status quo which stipulates that CHRAJ could only investigate alleged cases of corruption only when it receives a formal complaint is unacceptable because it is not giving the commission enough teeth to bite.
Against this background, Nana Addo gave the assurance that his administration would first and foremost deal with this challenge.
The acting CHRAJ commissioner said she agreed with Nana Addo's position that CHRAJ needed to be given the teeth to bite first by empowering it to investigate alleged cases of corruption without formal complaints before thinking broadly about measures which require constitutional amendments.
"Though the talks about the separation of the Attorney General's office from the Ministry of Justice and the giving of prosecution powers to CHRAJ are all well and good, I think in the interim, we should be concerned about immediate things which would not be too difficult to implement but would yield desired results," she observed.
Ms. Bossman said candidly that she thinks the most important thing was for anti-corruption agencies like CHRAJ to be strengthened to play its expected role while the prosecution aspect of its work is left for the constitutionally mandated institutions to do.
"I don't think that for now it is too necessary for us to dwell much on amending the constitution to allot prosecution powers to CHRAJ, but what is vital is immediate strengthening of the commission's basic fundamentals," she stressed.
Imploring Nana Addo to stand by his promise when elected into office, Ms. Bossman acknowledged that the government was doing its utmost best to empower the commission but "much more needs to be done, if real change is expected".
It will be recalled that Nana Oye Lithur, the African Regional Director of the Commonwealth Human Rights Initiative (CHRI) lauded Akufo-Addo after the Accra debate, saying he showed a better understanding of the issues under discussion than his colleagues.
From Morgan Owusu, Kumasi