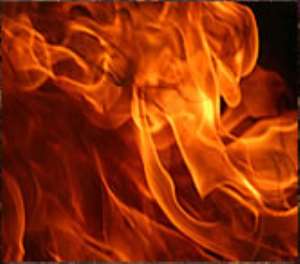 Mr Fiifi Sagoe, Shama District Fire Officer, on Thursday said about 2,400 fire outbreaks were recorded between January to July this year, nation-wide.
He said properties worth about 50 million Ghana Cedis were destroyed in the fire outbreaks while about 16 lives were lost.
Mr Sagoe announced this at the launching of Shama District World Disaster Reduction Day under the theme "Hospitals, Safe from Disaster" at Shama.
He said some fire outbreaks could be prevented therefore management of Ghana National Fire Service (GNFS) had embarked on educational programmes on the causes and prevention of fire outbreaks to enable the public assist to minimize their occurrence.
Mr Sagoe said natural disasters could be well managed through disaster plans and programmes and Shama had been experiencing periodic tidal waves and the inhabitants should be educated about evacuation procedures.
Dr (Mrs) Maame Pokuah Amo-Addae, Shama District Director of Health, advised health personnel to keep health facilities tidy to prevent transmission of diseases to patients.
She said health personnel should wear gloves and other protective cloths not to become transmitters of disease to patients.
Dr Amo-Addae called for proper storage of drugs and vaccines in order not to lose their potency.
Health facilities, she said, should be inspected to identify disaster risks for prevention.
Mr Alex Adu-Boahen, Shama District Coordinator of National Disaster Management Organisation (NADMO), said the day was to create disaster awareness.
He said the theme for this year was to effect change that would protect the lives of patients and health personnel by ensuring the structural resilience of health facilities.
Mr Adu-Boahen said the day was also to ensure that health facilities and health services were able to function after emergencies and disasters and improve the risk reduction capacity of health workers and institutions including emergency management.
He said hospitals should be properly equipped with logistics and personnel to function appropriately always and health workers should be given constant training to keep them abreast with modern day health delivery.
Mr Adu-Boahen said to safeguard the lives of both patients and health personnel, health centres should have a clean environment at all times.
He said this would prevent or control the invasion of mice, cockroaches, flies and mosquitoes in health facilities.
Mr Adu-Boahen said the theme was also a reminder to planners, consultants, architect, contractors and artisans to pay more attention to site for the construction of health facilities since sites which are prone to flooding, erosion and landslide would not make the facilities serve their purpose when most needed.
Mr Yusuf Gyamson, Shama District Director of NCCE, asked the people to exhibit tolerance to prevent disaster during Election 2008.
He said there is the need for tolerance because the country had a multi-party system and the best way to run a democracy is exchange of ideas.
Mr Gyamson said politicians and their supporters should accept opposing views to maintain the prevailing peace in the country.
Mr Joseph Amoah, Shama District Chief Executive, called on the people to put the interest of the country above personal interest and vote peacefully during Election 2008.
He said this would enable Ghana move to the next level of its socio-economic development.