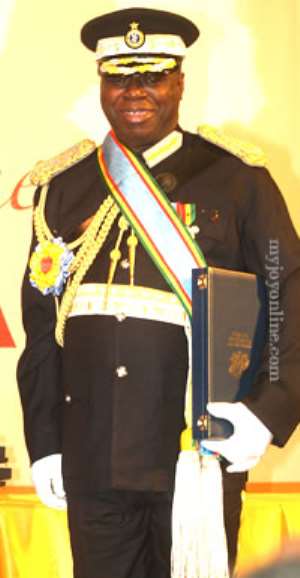 Listen to the IGP on Joy News
The Inspector General of Police has dismissed suggestions that the security services are in collusion with the government to rig the December elections.
Addressing a news conference in Accra on behalf of the joint Election Security Taskforce, Mr. Patrick K. Acheampong said the security agencies would only be on hand to maintain law and order and would not interfere in the electoral process.
"We do not see how rigging can be done with the aid of the security services, either as individual officers or as a group like the national Election Taskforce."
He assumed that the electoral processes are known to all eligible voters especially the political parties who have their agents at the centres to monitor the process.
"When voting has closed, counting is done at a polling station, the results come from the polling station and they announce to those at the polling station.
"We do not see how any member of this taskforce or the security services can influence any of these steps."
He said the security services would be "grateful" if any individual or political parties could come out or hint them on any action being hatched by the security agencies to interfere in the elections.