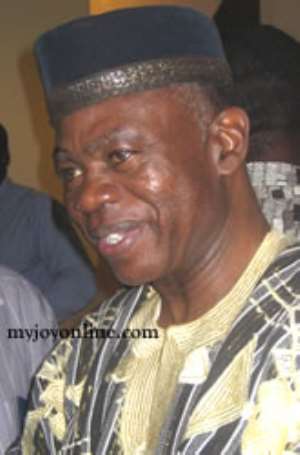 Dr Edward Nasigri Mahama, Presidential Candidate of the Peoples National Convention (PNC), on Monday pledged to fight corruption in all sectors of the economy through a transparent government when elected into office.
He said the transparency style of governance would be deeply rooted to the extent that, underhand dealings would be an oddity and not the norm as it was currently in the country.
Dr Mahama, who is on a campaign tour of the Volta Region, said this in an interaction with journalists in Ho.
He said the verifiable antecedent of his party's strong anti-corruption stance was the impeccable records of the late Dr Hilla Limann and his People's National Party (PNP) Administration.
Dr Mahama said not even the "Kangaroo Courts" of the military junta, which overthrew Dr Limann could find him or any of his ministers culpable of corruption.
He said as President of Ghana, he (Dr Mahama) would portray steadfast truthfulness in all matters of state and his private life as well as compelled all political appointees to do the same.
Dr Mahama said this would enable him bring the baton down hard enough on corrupt people to stem corruption.
He said the campaigning style of the PNC might not be that visible because it targeted people with messages rather than rumble at big rallies.
Dr Mahama said his party would bring into government many segments of society, including women who were excluded by other governments.
He said his government would tackle the drug menace in the country in an integrated way by rehabilitating the users and strengthen the drugs control agencies to enable them go after barons and their agents.
Dr Mahama said the PNC by its choice of Mrs Petra Amegashie, as running mate, was offering the Volta Region, where she hails from, the opportunity to contribute meaningfully to the nation's politics.
Mrs Amegashie also told journalists that a vote for the PNC would represent the opportunity for Ghana to once again lead Africa out of bad governance associated with the continent, just as Dr Kwame Nkrumah, Ghana's first president led the country into independence 51 years ago ahead of many African countries.
She said Ghana should not be relying on others like the US, to resolve its predicament.
Miss Diana Nane, Miss Sarah Kporku, both hairdressers and Victor Nyaxo a photographer were introduced as parliamentary candidates of the PNC for Ho Central, Ho East and Hohoe North constituencies respectively.
Mr Nyaxo is also Volta Regional Chairman of the Party.