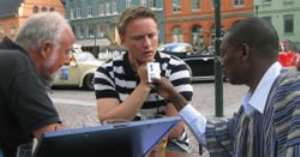 Editor-in-Chief of the Crusading Guide News paper, Kweku Baaku Jnr. has chided the opposition National Democratic Congress of setting the stage to reject the December polls once it goes against them.
"They are employing an old trick of creating a psychological environment in preparation to reject the December polls."
Kweku Baako challenged the party to make public and substantiate documents the party claim to be evidence of rigging by the New Patriotic Party in the run up to the December polls.
The NDC sent documents they claim were evidence of machinations by the NPP to rig the December polls to an ECOWAS delegates for redress.
Former first lady Nana Konadu Agyemang Rawlings is also alleged to have sent similar documents to the Japanese government.
According to Kweku Baako, the electorate from who the NDC is soliciting votes in the December elections have a right to know the contents of that document.
"Hiding the documents amounted to an insult on the intelligence of the same electorate you are asking votes from," he charged.
He was discussing the fallout of the jailed NDC aspiring Member of Parliament for Kwabre West, Pious Opoku Boateng, on News File, a Joy FM's news analysis programme on Saturday.
Boateng was jailed for 12 months on his own plea of double registration.
Kweku Baaku described the crime as unfortunate, coming from a party that consistently accused the Electoral Commission and the NPP of colluding to rig the December polls.
The NDC as a party could not be accused of complicity he added.
A member of the NDC, Cobby Acheampong maintained that his party is a law abiding one and would not jump to the defence of any one who breaks the law.
He expressed surprise at the swiftness with which the culprit was prosecuted, and demanded same for an NPP functionary who he alleged was caught holding multiple voters registration cards.
"If all cases in our judiciary could be addressed with such kind of speed, there will be no back log in our courts," he noted
On the alleged circulation of the "rigging documents" to the international community, Acheampong insisted the NDC as a party has the right to present any document to any organisation it chooses to.
The organisation reserved the right to look into or reject the documents, he added.
He questioned the capability of the state institutions and the general public to solve some of the concerns raised by the party.
"Tell me which body in the country would want to address such an issue" he quizzed.
He said the international community who contributed financially to the democratic process in Ghana must be made aware of the plot, "they can exert pressure on the NPP to stop." He added
Mrs Susan Adu-Amankwaah, Greater Accra Chairman of the Convention People's Party, noted that she was equally interested in the details of such a plot in order for all electorate to be more vigilant in the December polls.
source: Nathan Gadugah