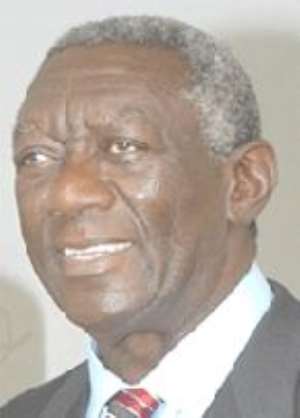 The President, Mr J. A. Kufuor, has stated that he and his team do not deserve any thanks or gratitude for their role in helping to shape Ghana's future.
He said his party did not come to power by force but rather it appealed to the conscience of the good people of Ghana with its manifesto and shared its visions with them.
"They got convinced and gave us the opportunity. If you promise to do something and you are given the chance to do it, perhaps it is not so much of gratitude or praises on you," he affirmed.
President Kufuor was addressing a cross-section of Ghanaians at a reception in his honour in London.
The reception, which was organised by the Ghana High Commission, in conjunction with the Ministry of Foreign Affairs, was to provide a platform for the Ghanaian community in the UK to have their final official interaction with the President, who leaves office on January 7, 2009.
The President is currently in the UK with his wife, Mrs Theresa Kufuor, to receive yet another prestigious award from the Chatham House.
He has been voted by members of Chatham House as the winner of the 2008 Chatham House Prize.
The other nominees are Aga Khan, Founder, Aga Khan Development Network; Angela Merkel, Chancellor of the Federal Republic of Germany, and Ambassador Christopher Hill, Assistant Secretary of State for East Asian and Pacific Affairs, Department of State, United States.
The awards ceremony will take place at Drapers Hall in the City of London this evening.
Many people, including the clergy, traditional rulers and opinion leaders among the Ghanaian community in the UK turned up in their numbers to perhaps have the last official get-together with their leader who, according to them, has proved capable of his position.
The President said the vast development of the nation and the relative peace that was enjoyed by the people were not just luck but rather the result of hard work, dedication and commitment.
Story by Nana Sifa Twum.