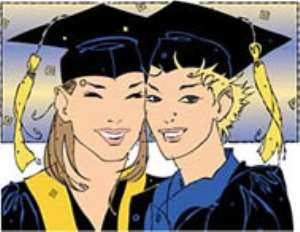 The Principal of the Maranatha University College (MUC), Rev. Bernard E. Marbell, has called on political parties to develop a comprehensive programme on how they will support private universities in the country.
"My appeal to all aspiring presidential candidates is that they should not forget the private universities in their vision when they are elected into office," he said.
Rev. Marbell was speaking at the first congregation of the university on the theme "Development through Partnership" in Accra.
In all, 20 male students graduated with certificates, diplomas and degrees from various programmes of study at the theology and ministry faculty.
He said there was the need for motivated, trained and dedicated human capital which would help in the development of the country's economy.
University graduates are key in harnessing and adding value to national resources. By this, all the universities in the country must come together and help to increase the human capital for national development.
Rev. Marbell indicated that the MUC was training its students by shaping their characters to be partners in the development of the country.
"Maranatha University College is training its students to become evangelical Christian leaders, pastors, business professionals, entrepreneurs and managers to help in the development of the country," he added.
He noted that the congregation was a testimony to the development for MUC through its partnership with the University of Cape Coast.
Rev. Marbell said through partnership with other institutions, both local and foreign, the college had been able to achieve some of its aims, which could be extended to involve government.
He appealed to the government to assist the college through the Ghana Education Trust Fund (GETFund) to complete two of the college's building projects. Rev. Marbell said the college had written to the GETFund for support towards the completion of its new library project and computer laboratory.
He said the completion of the facilities would help the college to address its problem of meeting the increasing number of students.
Rev. Marbell pointed out that the theology and ministry faculty of the college had trained over 1,000 graduates over the years before its affiliation with the University of Cape Coast (UCC) in 2005.
He stated that the university hoped to increase its population to 2,000 by 2014.
Rev Marbell advised the graduates to make good use of the knowledge and skills acquired at the university to enable them to discharge their duties as ministers to ensure the execution of God's great commission.
Speaking on behalf of the graduates, Mr Larry Vlendee Jarbah recommended that the intake of students should be repackaged to attract more students.