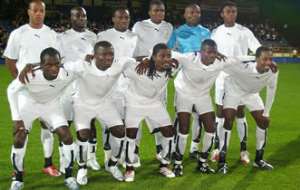 African football expert, Mark Gleeson, has questioned Ghana's ability to make a second successive appearance in the World Cup.
According to him the Black Stars lacked the strength in depth like it used to, when it qualified for the 2006 World Cup in Germany.
Mark Gleeson in an interview cited the serious striking problems the team had grabbled with, and predicted a turn to the worse, especially with the absence of Asamoah Gyan.
"Stephen Appiah is not on top of his game like he used to in 2006, Essien is injured and we don't know if he would be back before Ghana's first qualifier."
"Frankly if I am told to bet my last coin on Ghana qualifying for the world cup in 2010, I would say no." He added.
The Black Stars made it to the next stage of the Nations and World Cup qualifiers by the scrap of their neck, topping their group with 12 points but with a superior goal aggregate.
Gabon and Libya were also tied on 12 points apiece.
Ghana has been seeded in the first pot together with Nigeria, Egypt, Cameroon, and Ivory Coast and awaits the final draw on October 22 in Zurich.
Story by Nathan Gadugah