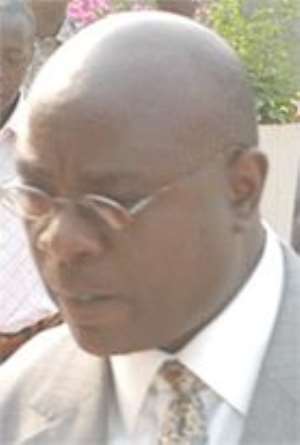 Proceedings in Parliament yesterday ended midway as a result of the lack of the required number of parliamentarians to form a quorum.
The House requires the presence of one-third of its 230 members before it can go on with business and half of its members before a decision can be taken.
Yesterday's sitting , however, began with only 13 MPs from both sides of the House.
When proceedings began, the Speaker invited the Minister of Local Government and Rural Development, Mr Kwadwo Adjei-Darko, to answer two questions which had been asked by two MPs.
After he had answered the questions, the House began to deal with the National Pension Bill at its consideration stage.
However, the Deputy Minority Leader, Mr Edward Doe Adjaho, raised the issue of quorum during the deliberations, thereby forcing the First Deputy Speaker, Mr Freddie Blay to bring proceedings to an end.
"Honourable members, I thought that the leadership of the House has agreed to continue with proceedings no matter the situation, but now that no less a member than the Deputy Minority Leader has raised the issue, my hands are tied", Mr Blay said.
Mr Adjaho told the House that since the National Pension Bill was very important, there was the need for a greater number of the MPs to be present before its consideration.
He was supported by the NDC MP for Ningo-Prampram, Mr Enoch Teye Mensah, who called for the House to be adjourned till the following day.
Other MPs, Mr Ken Dzirasah (South Tongu) and Papa Kwesi Nduom (Komenda-Edina-Eguafo-Abrem), joined the call for the suspension of the debate on the National Pension Bill.
The Majority Chief Whip, Okerchire Adusah, however argued that although the raising of the issue of quorum was justified, Mr Adjaho had stabbed the Business Committee, of which he was a member, in the back.
He explained that the committee took the decision last week and wondered why Mr Adjaho should turn round to raise the issue of quorum in the House to disrupt proceedings.
"Mr Speaker, I am amazed by the action of the Deputy Minority Leader", he said.
Although the NPP MP for Amenfi East, Mr Joseph Boahen Aidoo, and his colleague, Mr Hackman Owusu-Agyeman (New Juaben North), impressed on those who were calling for the end of the day's business to allow the House to continue with its discussion on the bill, Mr Blay ruled that the House should adjourn till today.
Story by Emmanuel Adu-Gyamerah