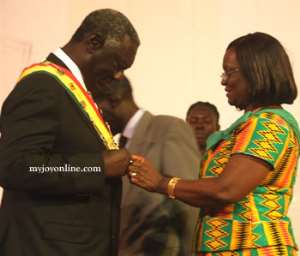 World Federation of Honorary Consuls has honoured President J. A. Kufuor with its highest award, the 'Order of the Gold Star," for his excellent and continuous support for the consular community.
The honour is also in recognition of the President's contribution to world peace and stability, said Arnold Foote, president of the federation, who decorated President Kufuor when he led a delegation of Honorary Consuls to the Castle last Friday.
Mr Foote described President Kufuor as a giant in Ghanaian and African politics whose deep understanding of the dynamics in politics had made him an outstanding personality.
"As the President prepares to leave office at the end of the year, the world, especially Africa, would always remember his good deeds," he said, explaining that President Kufuor's quality leadership of the African Union during his tenure as chairman, testified to his statesmanship.
"We wish to recognise your great works for Ghana, your outstanding leadership of Ghana and Africa, and we wish to honour you with our highest honour given to distinguished leaders," he said.
President Kufuor expressed gratitude to the Federation for the honour and stressed the need for the honorary consular community to use their positions to make the world a better place for all.
"You are a very formidable force and I hope through your agencies, our world would be a better one," he said.