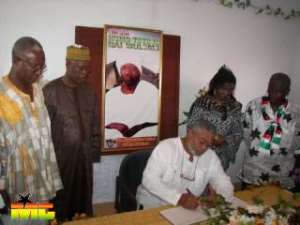 Rawlings signs Wulomo Book of Condolence
Former President Jerry Rawlings and wife, Nana Konadu Agyeman Rawlings on Friday signed a book of condolence opened at the Ussher Fort Musuem in memory of the late Spiritual Head of the Ga State, Numo Tete III, also known as the Nai Wulomo.
Alhaji Mahama Iddrisu, former Defence Minister; the Member of Parliament for Ningo Prampram, Mr. Enoch Teye Mensah and the Member of Parliament for Kpone Katamanso, Nii Laryea Afotey Agbo also signed the book.
Family elders of the late Nai Wulomo received the delegation that arrived with a huge following of NDC supporters who had created an atmosphere of fanfare within the vicinity of the Fort.
The former President and his entourage was forced to make the rest of the journey from the Holy Trinity Cathedral on the High Street to the Musuem on foot, as the large crowd of NDC supporters thronged the road, virtually turning the short ceremony into a carnival.
The Head of Family of Nai We, Numo Tumomli Yartey and other elders, through the Member of Parliament for Odododiodioo, Nii Tackie Komme, welcomed the former President and his entourage, and after a short briefing, led them to sign the Book of Condolence.
The late Chief Priest's family had visited the former President at his Ridge residence two weeks' ago to formerly announce the death and also to brief him of funeral arrangements.
Numo Tete III, installed Nai Wulomo in 1983, died at the 37 Military Hospital in Accra on March 4, 2008, at the age of 87.
According to the family, wake would be kept for the late Nai Wulomo on October 13, to be followed by burial on October 14 at Aplaku, with final funeral rites following on October 18.