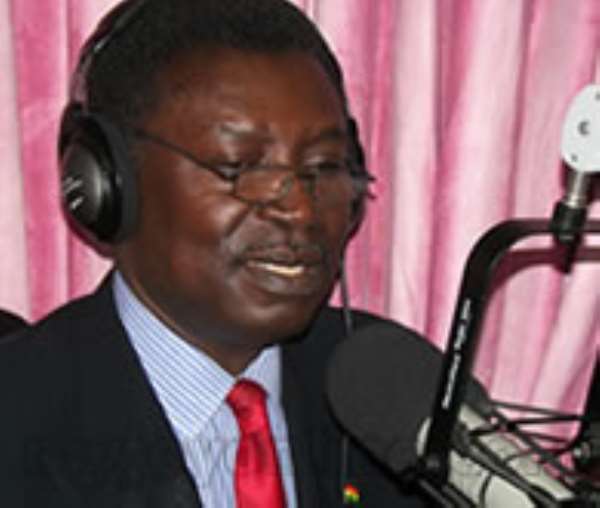 The Chairman of the Public Utilities Regulatory Commission (PURC) and former Chief Executive Officer (CEO) of Korle Bu Teaching Hospital, Prof Kwabena Frimpong-Boateng has filed a writ at a Koforidua High Court against the Volta Regional Minister, Mr. Kofi Dzamesi and his brother, Adu Cudjoe, for encroaching upon four plots of land he had legitimately acquired at a spot near the Peduase Lodge, at Aburi in the Eastern region.
In his statement of claim filed at the court on June 16, this year, Prof. Frimpong-Boateng is seeking perpetual injunction against the defendants and all persons claiming any interest through them, regarding the land.
The writ stated that in September, 1996, Mr. Kofi Ohene Agyei of Akropong-Akwapim district in the Eastern Region, sold the land to him (plaintiff), who subsequently paid the full purchase price of 800,000 old cedis to the vendor, Mr. Agyei, after which the Indenture of Conveyance which was prepared to evidence the sale transaction was stamped with the Stamp of Commissioner's No. 1608/96 and registered with the Land Registry Number 9222/1998.
Plaintiff then took possession of the land soon after he paid the purchase price and the Indenture of Conveyance was executed and has remained in peaceably possession ever since, until the defendants trespassed on it recently.
The writ said the plaintiff saw Cudjoe on the land with a team of workers frantically building a short wall around the land, but when he challenged Cudjoe over his team's unlawful activity on his land he was told that it was Mr. Dzamesi who had put him on the land to build the wall.
Prof Frimpong-Boateng then called on Mr. Dzamesi to find out from him why he has trespassed on his land, but Mr. Dzamesi laid claim to the land in dispute. The writ concluded that Tetteh and his team of several workers were frantically building on his land and unless they were restrained they would continue with their unlawful activity on his land.