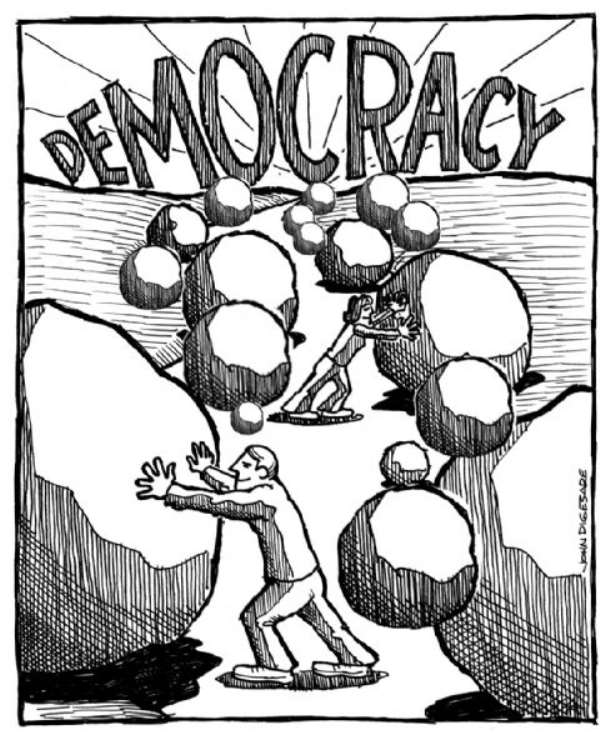 I'm trying very hard to locate a rhyme or reason to the President's frequent reshuffles, but I keep missing the point.
Stephen Asamoah-Boateng has hopped from Deputy Information Minister to Deputy Tourism Minister to Local Government Minister to Tourism Minister to Information Minister. And there's no guarantee he'll be at post before you're through reading this sentence.
The Information Ministry itself has been buffeted by at least eight Ministers. Jake. Elizabeth. Owusu-Adjapong. Akomea. Botwe. Bartels. Oboshie. And now Asa B.
Papa Owusu-Ankomah started out as Youth & Sports Minister. Then he was hurled to Interior and tossed to Attorney-General, and then recycled to Education, Youth & Sports.
Now he's been retrieved from the party's presidential primaries debris to take over at Trade where Joe Baidoe-Ansah had just about enough time to know the officers on his floor. Joe's gone to Aviation. I really am not sure what he brings to the cockpit, when the administration has six months to land.
These days, it's difficult to recall which portfolio is assigned to whom. It's even worse with the Deputy Ministers.
Quiz: Who is (are) the deputy minister(s) for Mines, Lands & Forestry? You have 10 seconds……
Deputy, Employment & Social Welfare…..
Deputy, Roads & Transport…..
There may be a case for shuffling Ministers about. It can prevent them from developing corrupt relationships. But I really hope that that's not the reason for the high attrition rate in this administration. Because that default position would create the unfortunate impression that all Ministerial appointees are inherently corrupt and have to be shuffled before they get familiar with the main suppliers at their ministry.
That's why I'm at a loss. Oboshie Sai-Cofie barely finished her cup of tea at Information. Now, as Tourism Minister, she'll be lucky to ride a croc at Paga, or make it across the nine streams that precede Wli Falls before the President's term expires.
It takes months for Ministers to settle down to their jobs and be effective. I've never been there but I suspect so. There's a lot to be said for experience and longevity, I believe. That is how Kwame Addo-Kufuor established a record at Defence to run on.
I disagree that the President doesn't owe anyone a reason for shifting Ministers about. The law doesn't order him to share with us the logic for shipping Gloria Akufo off to Ireland as High Commissioner in the evening of his Presidential term. But the law doesn't compel him to hold a People's Assembly either. He does so because it is sensible to do so. And it has served the President and our nation well indeed.
In a democracy you don't wait till you're asked "Why?". In a democracy there's an assumption of a Social Contract. A contract assumes there's Accounting. In a democracy, the smartest things you can do aren't in the law. In a democracy, people add things up. Quietly.