THE TRUTH ABOUT ESTHER SMITH & HUSBAND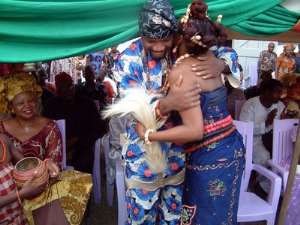 Unexamined life,the wise say is not worth living. Many of the so called contemporary relationships are contracted in haste without taking time to do background checks of partners. Our elders knew better hence their advice to us that we make the matters of the heart a community affair where every important person plays a part.
Many of the new generation of Ghanaians in relationships are quick to dismiss our cultural values regarding marriage as archaic,outdated and disgusting,however, prefer that of the foreign and welcomes it wholesale without checking it for its impact. The consequence is obvious for all to see, not everything from the West is good for us in Africa, it is also same for some of our cultural values but sometimes, the wise will make a hybrid that can foster success in anything we do.
One erroneuos impression that most Ghanaians do is that, they wrongly think that anybody singing gospel is a christian and as such,pious lifestyle is a must do and an expectation. Experience teaches us that it is not true of every gospel singer. Many of them are simply career musicians or business people and so will make music for economic reasons only. They are human like us, so we cannot exaggerate their wrongs when they falter in any department in life.
Esther Smith is a very good gospel singer and has really made a name for herself on the Ghanaian music scene. She is also a well-established business woman in Kumasi and probably abroad. What we dont know is how she fell in love with the Rev. whom , she is now accusing of having cast a spell on her,having affair with the maid and that their marriage is over.
Do you remember those days as teens where we used to say " I will do that beautiful girl " for-girls" (cast a spell) on a girl you had a crush on? Your understanding of Esther's lamentation will be based on how you believe in those cast-a- spell realities. I can tell you that I have friends who told me that it worked for them. Probably Yes or No to them, depending on how they achieved their goals then. So, Esther though a christian ( dont know whether she is pious one or not), must still be a believer of people's ability to influence life events spiritually. The other factor we have to consider must be, how the Reverend lived and fared when they were living together after marriage. Was he fond of using some super natural powers to achieve his dreams, make miracles etc?
Today in Ghana, in most christian faiths especially among the charismatic ministers, one's ability to do miracles is among the factors that determine one's success in his ministry. This is leading to some sort of competition among the ministers to do the unthinkable, possibly visits third forces to acquire miraculous energy. Is it strange that Nana Kwaku Bonsam the dreaded traditional priest and many traditional priests in Ghana are saying that they have been helping most of the ministers? Could it be that when they were in marriage, Esther Smith and the minister husband might have consulted some shrine for help in their respective lives ie Esther's music career and business and the minister's ministry? Think about those things as you continue to read.

Now about love, when they are each accusing each other of infidelity, it means something is wrong somewhere. Is it the fault of Esther or that of the minister? When the Rev. accuses Esther of flirting with one,Fiifi of Tema harbor before and after marriage, did he not take time to do his home work about Esther's background before making the proposal? Was she a flirt before she became "born-again" as many young Ghanain women are?
Why would a whole minister have an affair with a maid? Was Esther not paying him any attention? Or was he seduced by the maid? Or is it the work of evil forces with an aim to destroy their marriage? Did Esther need a maid after all? Or was she too busy flirting with men both in Ghana and abroad?
Why would she let some man abroad adopt her child? Doesn't it raise suspicions that she had some dirty clothes in the closet?
Why would she tell the husband that you are not the father of my first two children? Is this why the some musician sings " Only Mothers Know? Thanks to DNA, Honorable Reverend, you can check the paternity of your children.
Marriage that is not contracted in its right cultural context does not survive storms,hence the problems and challenges we have in today's Ghana. This blog is not meant to chastize anybody, it is ONLY my opinion about the TRUTH and I hope we can all learn from their experience.