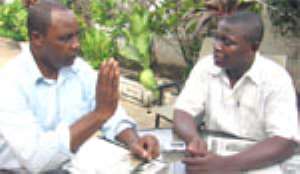 A TEMA-BASED Congolese Missionary, Apostle Matel Gracia, has thrown a challenge to every Ghanaian to gather courage and go for the widely-publicised Voluntary Counselling and Testing (VCT) for the Human Immune Virus (HIV) which eventually results in AIDS.
According to him the best way to control the pandemic for now was for everyone to know his or her status.
Apostle Matel, who is currently taking care of about 70 HIV-infected persons including children drawn from the Upper East, Central, Greater Accra, Ashanti and Volta Regions, bemoaned the rate at which the youth had become vulnerable to the disease, adding that hundreds of people were currently being infected at a faster rate than expected.
He explained that people who know their status are at a higher advantage of being protected from the disease because such people are compelled to live morally upright lifestyles at all times.
He was speaking to HEALTH MATTERS in an interview on Monday.
The Tema-based missionary indicated that ignorant HIV-infected persons, who did not know their status, were doing more harm than good to themselves since the medication they were supposed to take to prolong their lifespan was not being utilised, hence the possibility of having a shortened lifespan.
Anti-retroviral therapies (ARTs), he explained, help strengthen the immune system of infected persons, thereby prolonging their existence.
"If you get to know your status, you are always forced to guard against engaging in promiscuous lifestyles. This is the time to control HIV and not to allow HIV to control us. My advice for all Ghanaians is to have their HIV status known," he urged.
Apostle Matel does not only provided free ARTs for his adopted HIV sufferers, but also provides their daily needs including breakfast, lunch and supper as well as their personal effects.
"I also take them through regular counseling and teach them the Word of God," he stressed.
These and many other outdoor activities, he said, had since 2003 helped boost their morale and impacted positively on their physical appearances.
Unfortunately for him, the centre where he houses these people was recently demolished by officers from the Tema Development Corporation (TDC), a move he described as 'very heartbreaking.'
"Nothing is more painful than the place I have since 2003 helped to develop into a modern place being taken from me."
He said though a new area has since been allocated to him, developing it would involve huge sums of money because of its water-logged nature.
He entreated the TDC to lease it as a permanent place to him.
Asked how he was being funded, Apostle Matel stated, "I have since 2003 used my own resources to run my operations but the Ghana AIDS Commission has once assisted me with about 32 million old Ghana Cedis."
The Tema Community 5-based centre has since 2005 been affiliated to the Tema General Hospital and Polyclinic where patients are taken through counseling on regular basis.
By Grace Dartey