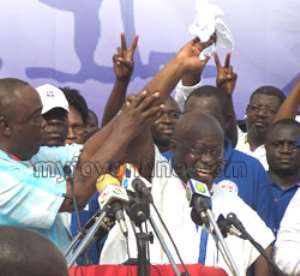 The case of defeated New Patriotic Party (NPP) presidential aspirants complaining after their defeats at party congresses did not start with John Alan Kwadwo Kyerematen, who resigned from the party last week over claims that his supporters were being harassed.
Daily Guide can reveal that soon after the NPP's presidential congress that re-elected the then Mr. John Agyekum Kufuor as the party's flagbearer in October 1998 for the December 2000 polls, the man who came second at the time, Nana Addo Dankwa Akufo-Addo also complained bitterly about marginalization and harassment of his supporters.
In a letter dated March 9, 1999, less than a year after the congress and when the party was in opposition, Nana stated that the matter of harassment of his supporters had come to him with considerable distress. "Ever since the Sunyani congress of October 24, 1998, I have received persistent reports from all over the country about systematic attempts to denigrate, abuse and harass party members who supported my cause in our recent primaries.
Their sin, in the eyes of those who supported the victorious candidate, is apparently their support for me. I consider this unfortunate in the extreme," he stated in a petition addressed to then party chairman, Samuel Odoi-Sykes. The petition was also copied the flagbearer, J.A. Kufuor; then Minority Leader, J.H. Mensah; and R.R. Amponsah, Chairman of Council of Elders. Nana Addo, who is now flagbearer of the party for the December 7, 2008 polls, having endured the perceived harassment of his supporters, gave Mr. Kufuor a good run for his money for the party's 2000 flagbearership race, coming second to him.
Soon after the Sunyani congress, reports started flying about that his supporters were being hounded. "Our much-trumpeted adherence to inner party democracy and democracy in general will sound extremely hollow, if not hypocritical if we are unable to accommodate with grace the consequences of inner-party contests.
"I have both at and since Sunyani, openly indicated my willingness to play my full part in the great electoral battles that confront our party. I have everywhere insisted on respect for the verdict of Sunyani, and called upon all and sundry in the party to support our chosen candidate so that together we can win power in 2000 to realize the dreams of liberty and prosperity which animated the founders and martyrs who established our movement over fifty years ago.
"I would be grateful if you could use your good offices to look into this matter, and if there is an iota or inkling of truth in these allegations, to do whatever is necessary to bring to an end such divisive and vindictive practices.
It does us no good. Surely the wisdom of the old adage, 'united we stand, divided we fall' cannot be lost on us after all the traumas we have experienced in our quest for power," Nana Addo stated.
However, unlike Alan, the Abuakwa South MP did not take the exit route, but decided to stay in the party and contribute his quota to the 2000 polls which brought the party to power after about 30 years in the political wilderness. Daily Guide learnt that, in view of Alan's verbal complaints about suspected harassment of his supporters, Nana Akufo-Addo had personally held one-on-one meetings with him, giving him assurances that none of his supporters would be discriminated against.
But after persistent whining, the former Trade and Industry Minister said enough is enough and that he could no longer contain what he described as "open attempts to intimidate and alienate some members of the party including some sitting members of parliament who supported my flagbearership of NPP". He wrote to the National Chairman of the party Peter Mac Manu in his resignation letter: "I have been deeply concerned about developments in our party and have discussed some of the issues extensively with your good self and other members of the party.
"In spite of these concerns I was hoping we could move forward to advance the success of the party. However repeated reports coming from the various constituencies throughout the country point to open attempts to intimidate and alienate some members of the party including some sitting members of parliament who supported my flagbearership of NPP. This I believe undermines the unity of the party. It is sad to note that even my recent efforts to embark on a 'thank you' tour of various constituencies during which I took the opportunity to call for peace and unity in the party has been misconstrued in certain quarters within the party, leading to all kinds of negative propaganda. Under the circumstances, Mr. Chairman, I am compelled, regrettably to hereby resign my membership of the party with immediate effect. In spite of my current decision, I wish to affirm that I remain faithful to the ideals, values and principles underpinning the party's tradition. I hope that at the appropriate time when the need arises or when circumstances permit, I would rejoin the ranks of the party."