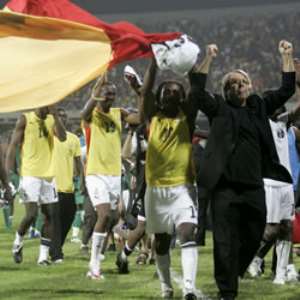 The boys have made amends and pacify Ghanaians and themelves with a bronze medal. They deserve the praise minus the FA guys and the coach. I for one will never mention the name of the coach and the FA in this victory, the boys knowing their pedigree in world football fought very hard from behind for this victory.
I don't want to hear any FA member take the credit for himself. They have utterly disappointed Ghanaians and so Randy Abbey cannot tell us that when 5 or 10 Ghanaians call into a radio station and say they do not want the coach then it cannot represent the thoughts of the larger Ghanaian populace. I want him to know that what he said is wrong and that he should come again for the 5 or so Ghanaians are those who had the opportunity to call into the radio programmes when the phone lines were open.
They should not deceive us with the thought that the African and World Cup 2010 qualifiers are just around the corner and so they cannot sack the coach. They can do so and go in for a better world class coach to get the job done for us. Randy Abbey goes on to say that they cannot be intimidated; who is intimidating them in this era of democracy when he himself happens to be a dye in the wool democract. The FA and the coach should check their utterances and not get the national teams to suffer unduly.

I however doff my hat to all the gallant players and congratulate them for this feat they have achieved for themselves and we the supporters of Ghana.