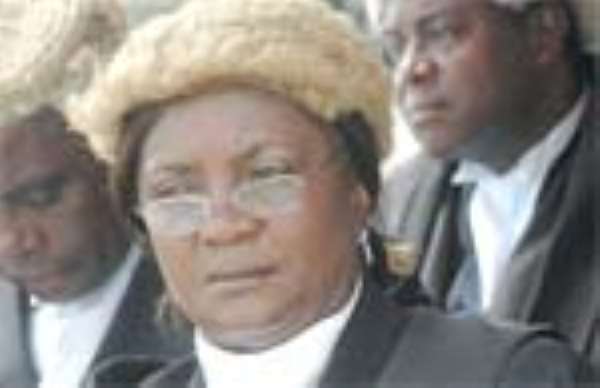 THE CHIEF Justice (CJ), Mrs. Georgina Wood at the weekend inspected the deplorable state of the Cape Coast Court complex at Cape Coast.
The court complex, established in 1978, seriously requires immediate renovation as the slightest earth tremor may cause its collapse.
The building has never seen any renovation since its establishment and now appears as a death trap to court workers and passers-by.
It was in view of the danger this all-important building posses that Justice Mrs. Wood visited the place to find out the actual condition of the court complex and see how best her outfit could give it a facelift.
She was taken round the court premises by the Regional Court Administrator, Mr. Charles Baidoo.
Speaking during the inspection, Mrs. Wood expressed concern about the state of the building, saying her outfit would negotiate with the Cape Coast Municipal Assembly (CCMA) so that the former CCMA Hall complex would be released for use as District Magistrate Court II and Sanitation Court, while rehabilitation works are carried out on the old court complex.
Other workers in the court complex would be re-located to the Central Regional House of Chiefs premises.
Mrs Wood appealed to the Central Regional Minister, Nana Ato Arthur, who later joined the team, to support her outfit in building a new court for Cape Coast.
DAILY GUIDE observed during the visit that the court rooms were nothing to write home about as the electrical wires in the rooms appeared very old while the ceiling fans and air conditioners are not working.
During an interaction, an official told Mrs. Wood that Judges at the place settled between 60 and 70 cases a day.
Later in an interview, some Cape Coasters commended Mrs. Wood for the attempt to renovate the court building.
They contented that the late Chief Justice, Justice Acquah, about two years ago promised to build a new court complex for them but never lived to fulfill his promise, and therefore appealed to Mrs. Wood to make true her words.
The CJ later inspected the piece of land which would be used for the construction of the new court complex, and continued to Elmina to inspect the Elmina District Magistrate Court.
She was accompanied by the Judicial Secretary, Mrs. Regina Apotsi; Communications Director of Judicial Service, Mr. Divine A. Kwapong; an Appeal Court Judge with oversight responsibility of Central Region, Justice Marful Say; Mr. Berexford Acquah and Mr. Richard Asiedu Badu, both Circuit Court Judges in Cape Coast, and other officials from the Judicial Service.
It would be recalled that DAILY GUIDE last July published a story in its Central File column, exposing the dilapidated state of the Cape Coast court building. From Sarah Afful, Cape Coast