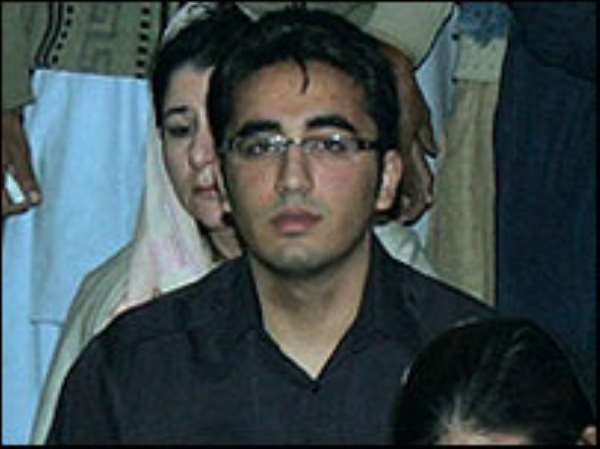 Benazir Bhutto's 19-year-old son Bilawal has been chosen to take over her Pakistan People's Party, after her assassination on Thursday.
It is thought he will take the role in a ceremonial capacity while he finishes his studies at Oxford University.
Bilawal told journalists at the Bhutto family home: "My mother always said democracy is the best revenge."
Ms Bhutto's widower, Asif Ali Zardari, who is expected to run the party, said it would contest January elections.
And he appealed to the former prime minister Nawaz Sharif to drop his threat to boycott the polls.
"Today's general would like to run (from the election)," he said, in a reference to President Musharraf. "We would not like to give him that chance."
Mr Zardari and his son were speaking at a news conference after a meeting of the leadership of the PPP to hear Ms Bhutto's political will.
Another senior party official, vice-chairman Makhdoom Amin Fahim, said Ms Bhutto had named Mr Zardari as her successor as party chairman.
But he said Mr Zardari had turned it down in favour of his son - a decision he said the party leadership had endorsed.
Mr Zardawi also announced that the couple's children would now change their name to Bhutto.
Sitting between his father and Mr Fahim, Bilawal himself said his father would run the party while he was away at university.
But Mr Zardari blocked any further reporters' questions to Bilawal, saying that although chairman, he was still of "tender age".