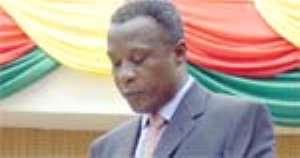 THE FIRST DEPUTY Speaker of Parliament, Hon. Freddie Blay has called on African Business leaders to collaborate with politicians to find solutions to the continent's economic challenges.
That, he said, was the only way through which the economic and political problems of the continent could be addressed.
Hon. Blay made this remark on Tuesday in Accra when he opened the Second Chief Executives and Directors' programme of the Management School, London and the Business Education Exams Council (BEEC).
According to Hon Blay, when it comes to taking crucial decisions in every nation, politicians might be the upper structure but business leaders were very important. "The challenge is therefore yours since you are the movers and shakers of society."
He called on them to be innovative, "galvanize your energies, have big dreams and move the continent ahead".
It was expected of African business leaders, he stated, to forge a strong bond with politicians and policy makers to develop the continent.
Turning his attention to the Ghanaian participants in the three-day course, Hon. Blay said, "Our budget and oil can't do much unless you CEOs breathe air into it."
He challenged them not to be "complacent with the little you've achieved". In this view, though significant gains had been made, "within the larger context, we are still far behind.
"Let Africa develop so that the complexes imposed on us would be removed."
He advised them to put into practice what they had learnt at the seminar. "Be poised and get yourself ready that we will do more, earn more and create more prosperity."
The president of BEEC, Mr Mike Okereke, gave an overview of the programme and announced that a similar one would be held in Dubai next month.
By Sylvanus Nana Kumi